Valentine Hut Bikepacking Route
Out of all the historic huts of Kosciuszko National Park, Valentine Hut is possibly the cutest. Nestled within easy(ish) reach of Guthega Power Station, you can ride out and back in a day, or choose it as the destination for a quick bikepacking overnighter.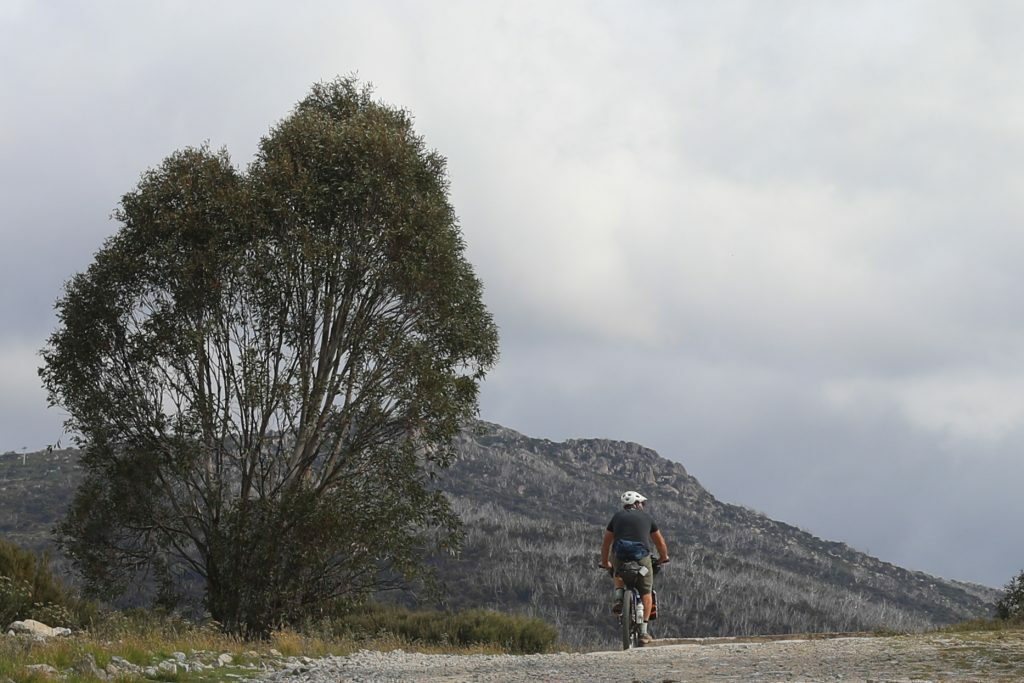 Starting at Guthega Power Station
Guthega Power Station makes a great starting point for this ride, as there's a car park, with toilet block, for you to easily leave your car. It's about a 3hr drive from Canberra and you can stop in Jindabyne for supplies on the way.
I've been out on this route a few times and there's usually plenty of time to reach Valentine Hut, even if you don't arrive at the car park until after lunch. Although last time out, we spent so long enjoying the first huts along the route, that we didn't reach our destination until just before dark.
Horse Camp Hut
The first 10km from the car park, up to Schlick Pass are along a well graded and clear access track. This section is mostly uphill, and you gain about 500 vertical metres. That being said, apart from the initial section, none of this trail is particularly steep, so you can just get into your groove and keep those legs spinning.
Horse Camp Hut is the first hut that you'll encounter, and it's just a short, well signposted, detour off the main trail. Its close proximity to the car park makes it a popular hut for hiking and it makes a great spot to stop for a snack.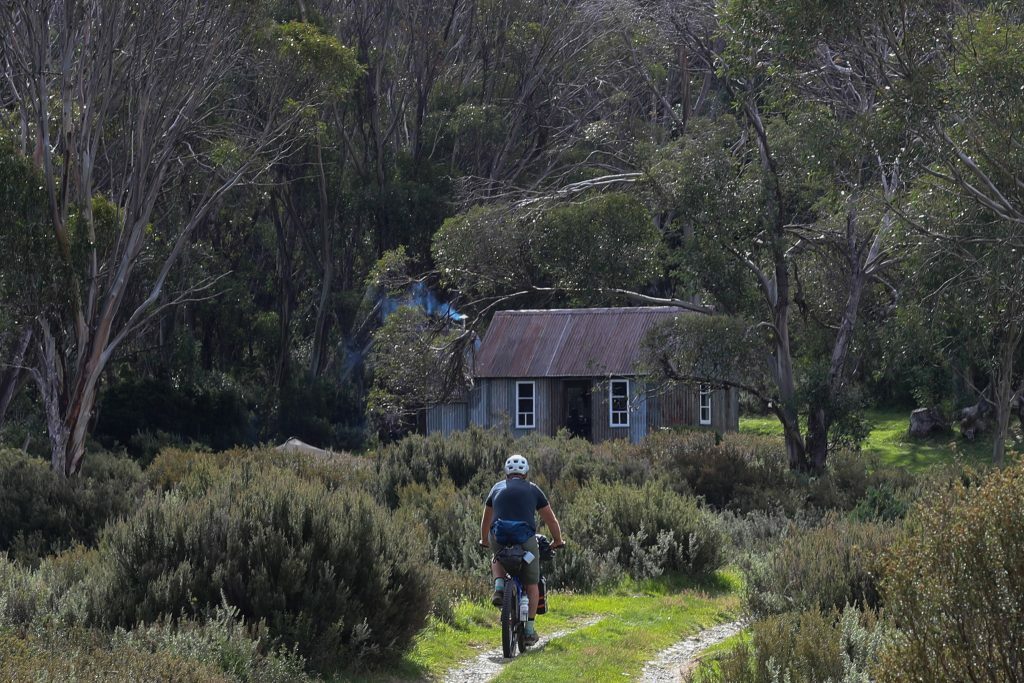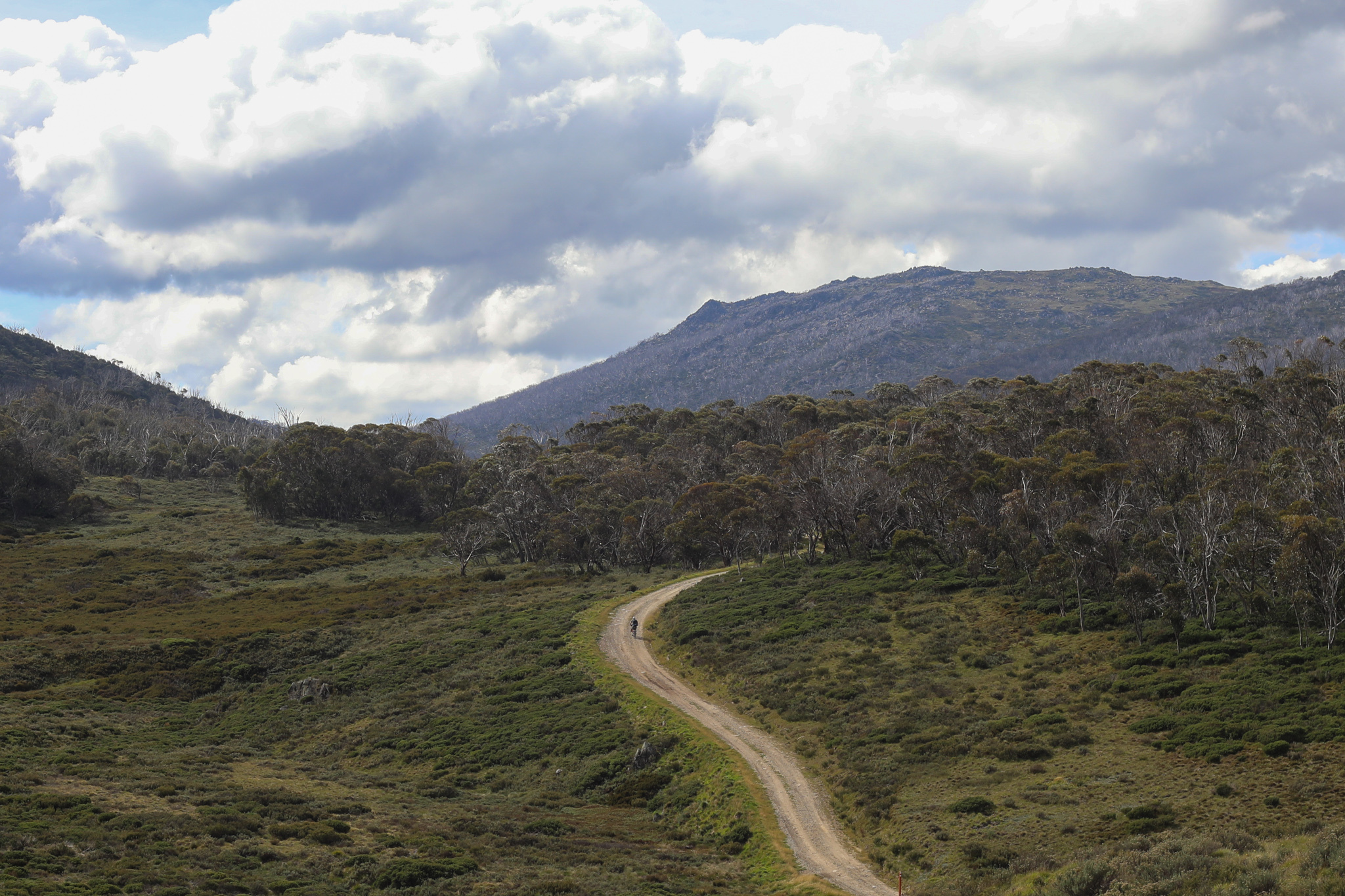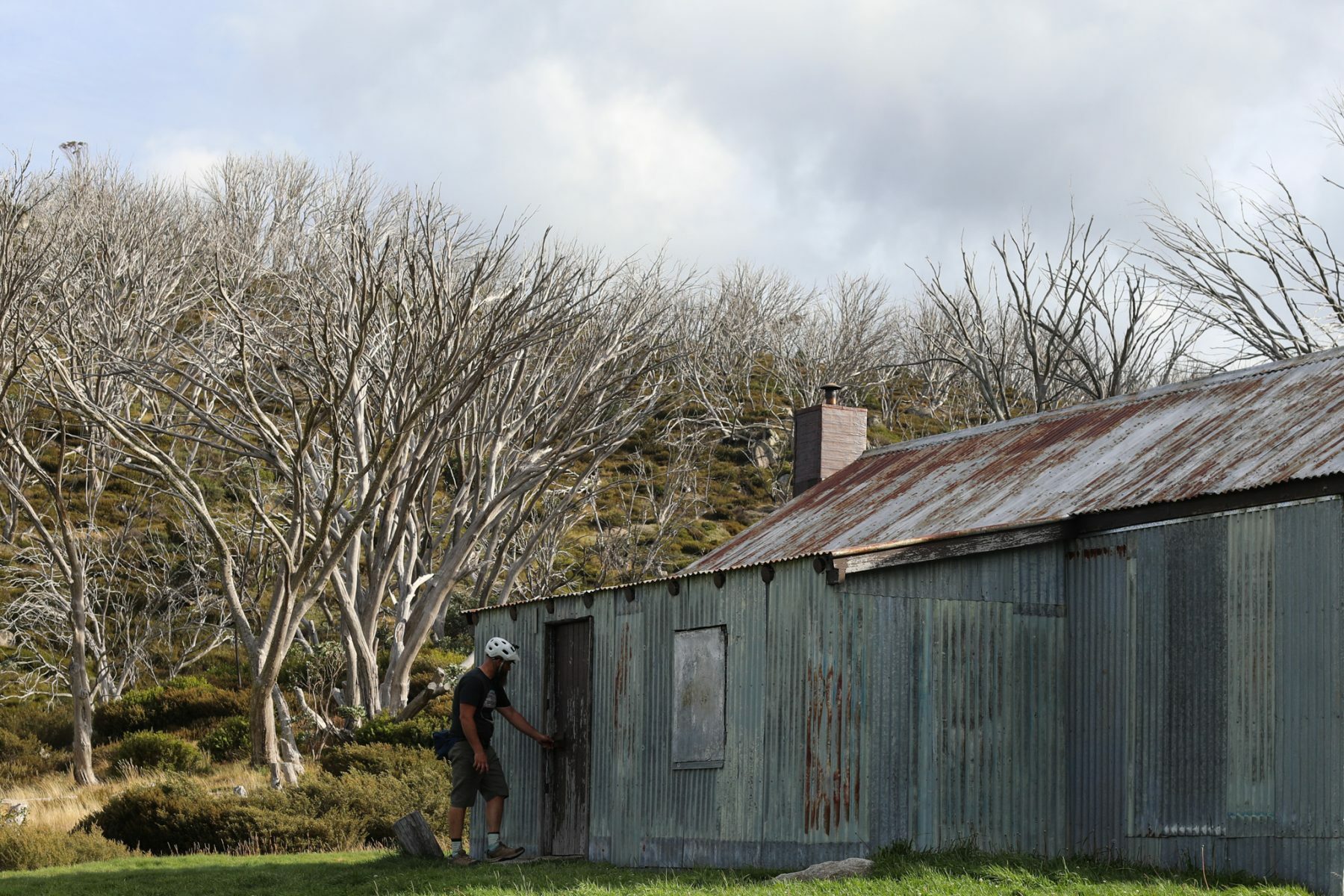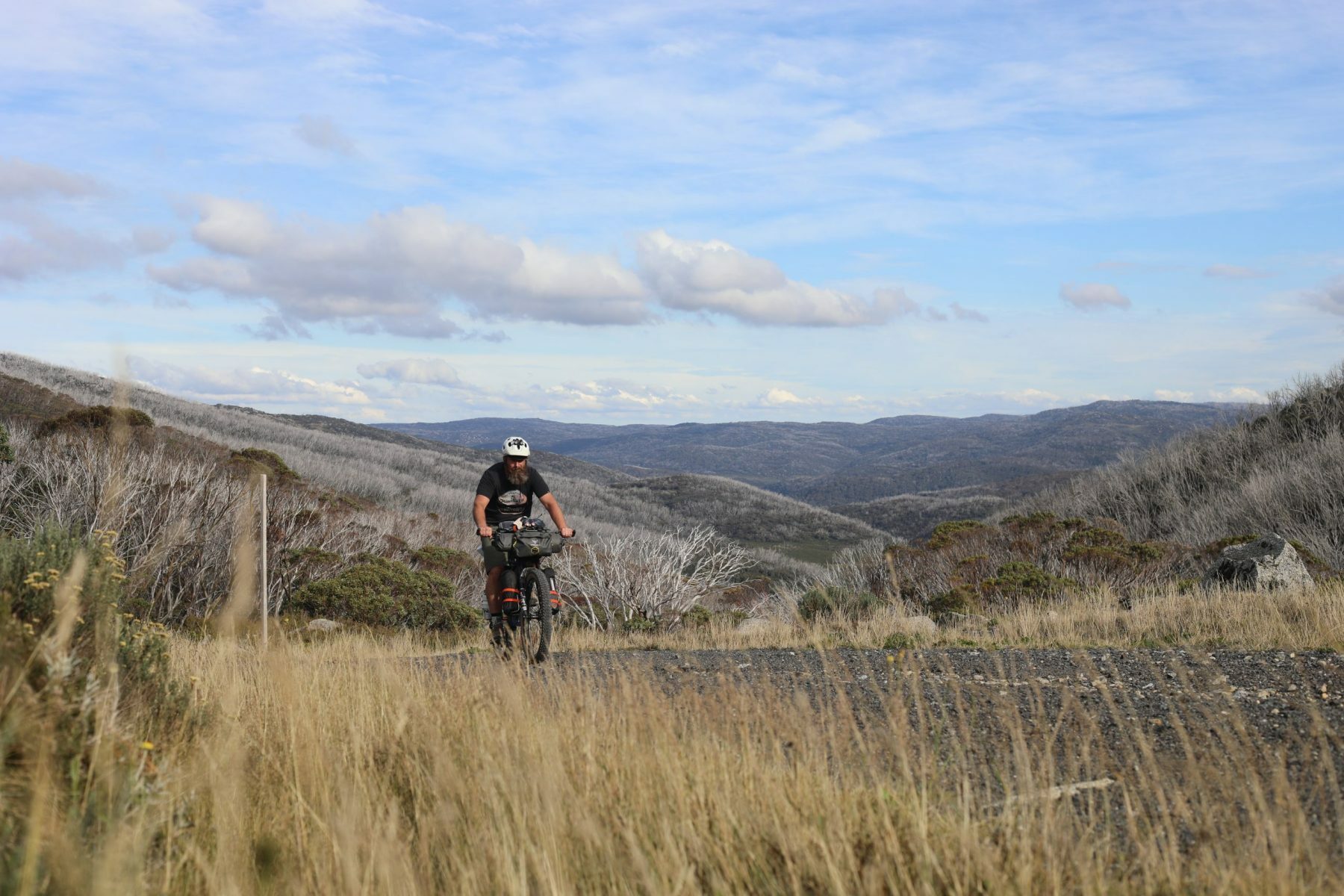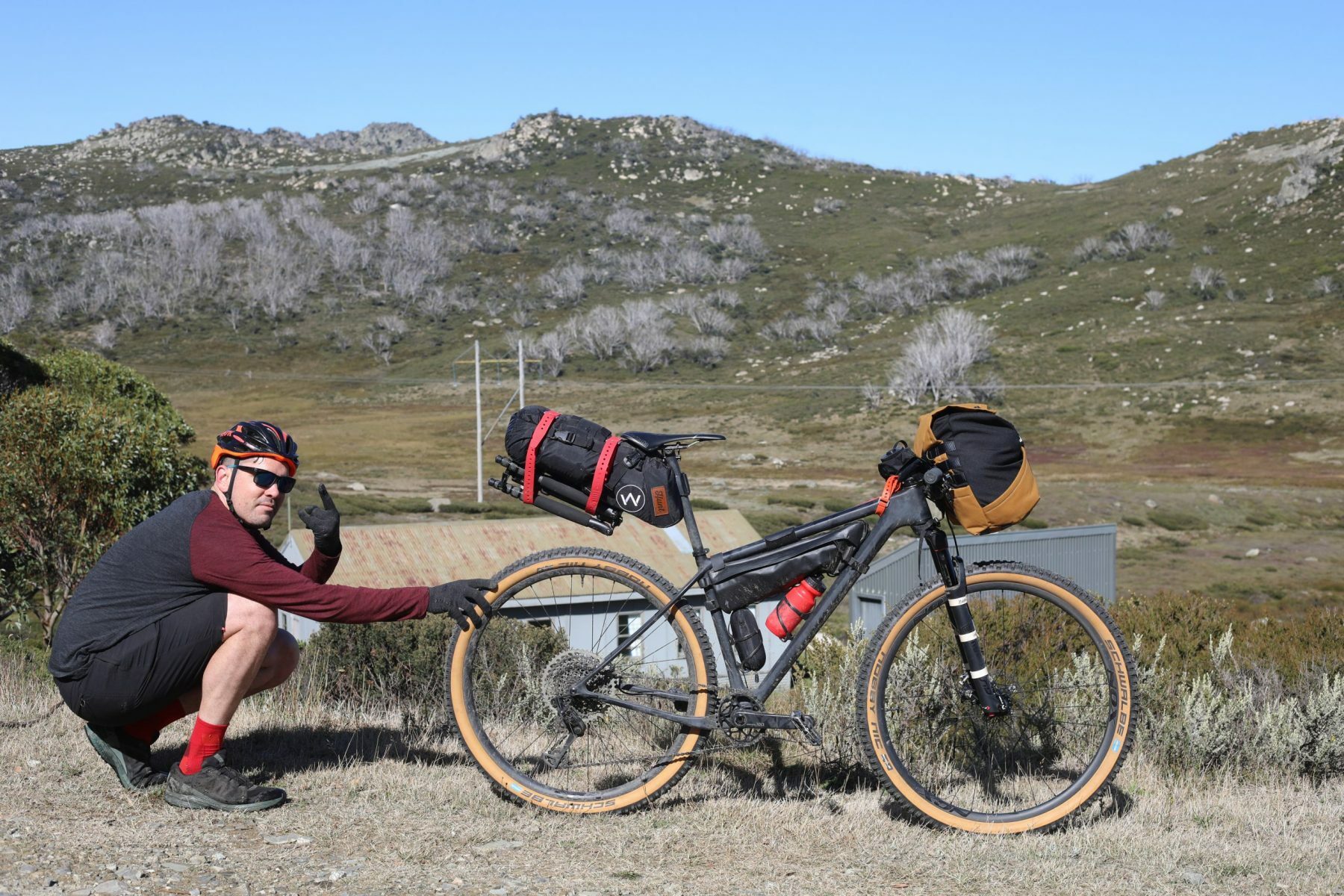 Whites River Hut and the Schlink Hilton
After Horse Camp Hut, you're pedalling straight up towards Schlink Pass. Just before you crest the summit, away to the left you'll spot Whites River Hut. There's a small creek crossing prior to the hut, but it's usually easily forded and there's a small bridge to make it even easier.
Once you've traversed over Schlink Pass, there's a short downhill section and about 1km later you'll see the Schlink Hilton tucked away to your left. This hut was originally built to house workers that were constructing the power lines in the region.
There's a creek running past the hut and can be a good spot to refill water bottles before entering the Jagungal Wilderness on Valentines Trail.
Valentine Hut Trail
There's a bit more descending to enjoy after stopping at the Hilton, and then you turn right onto Valentine Trail – this is the only turn you need to remember for the whole route!
While the first 10km were mostly spent climbing, the next 6km are more undulating. But also twice as challenging. There's a reason why the Jagungal Wilderness is one of the toughest areas to ride in Kosciuszko National Park, and you'll soon find out why.
Valentine Trail alternates between rocky track and grassy trail. The undulating climbs are pinchy and steep and will have you hike-a-biking more often than not. You'll probably take just as long completing this shorter section as you did the first part.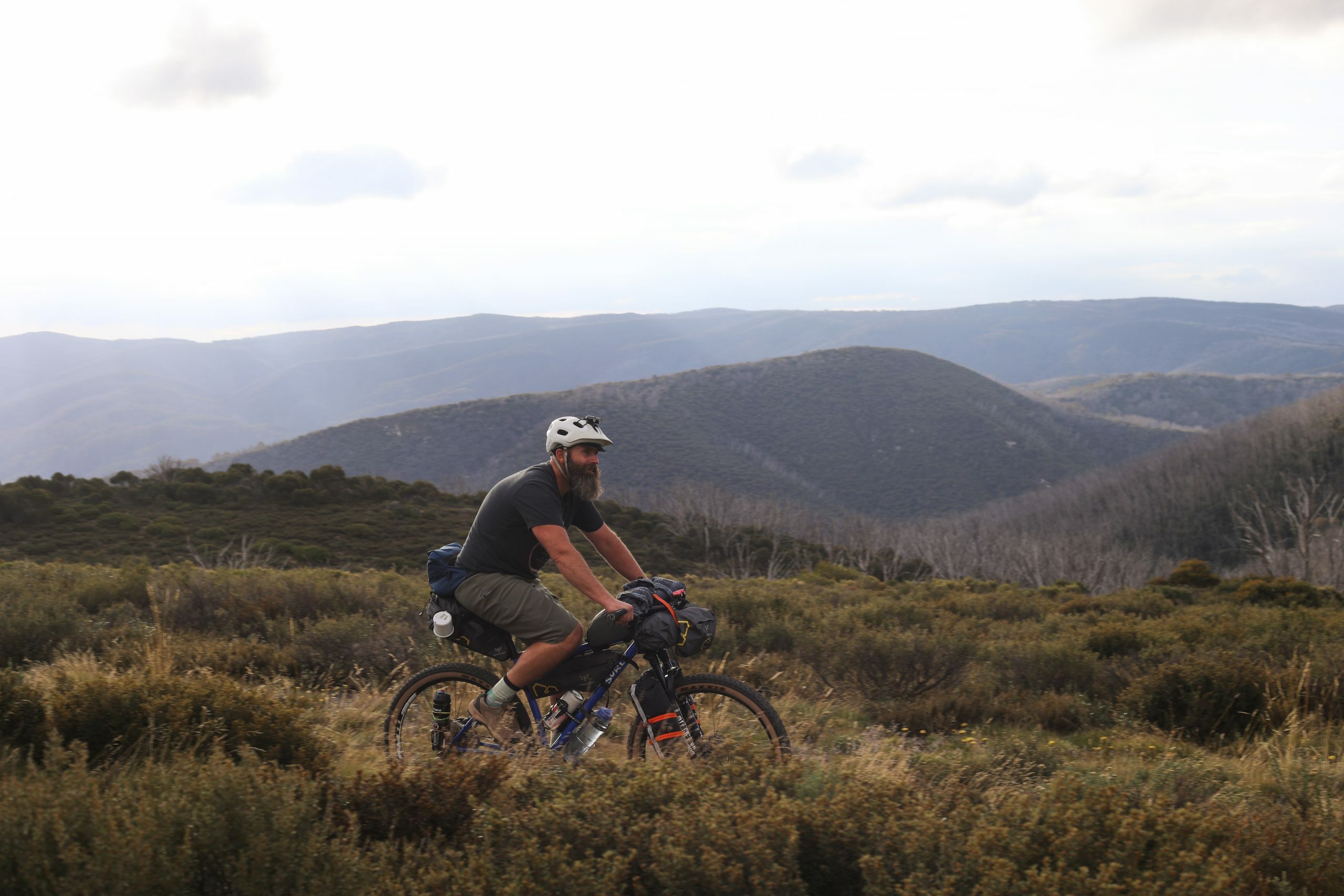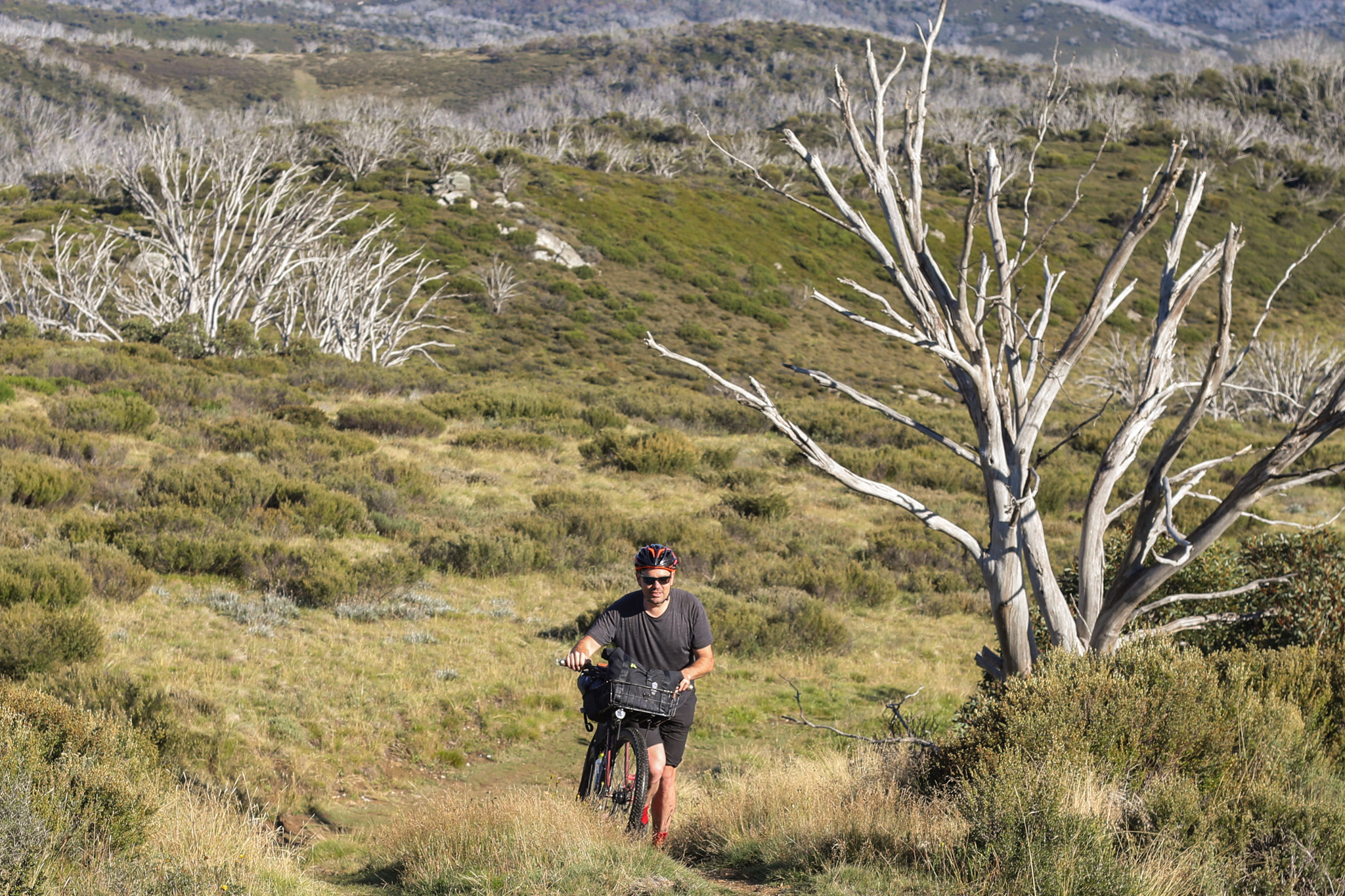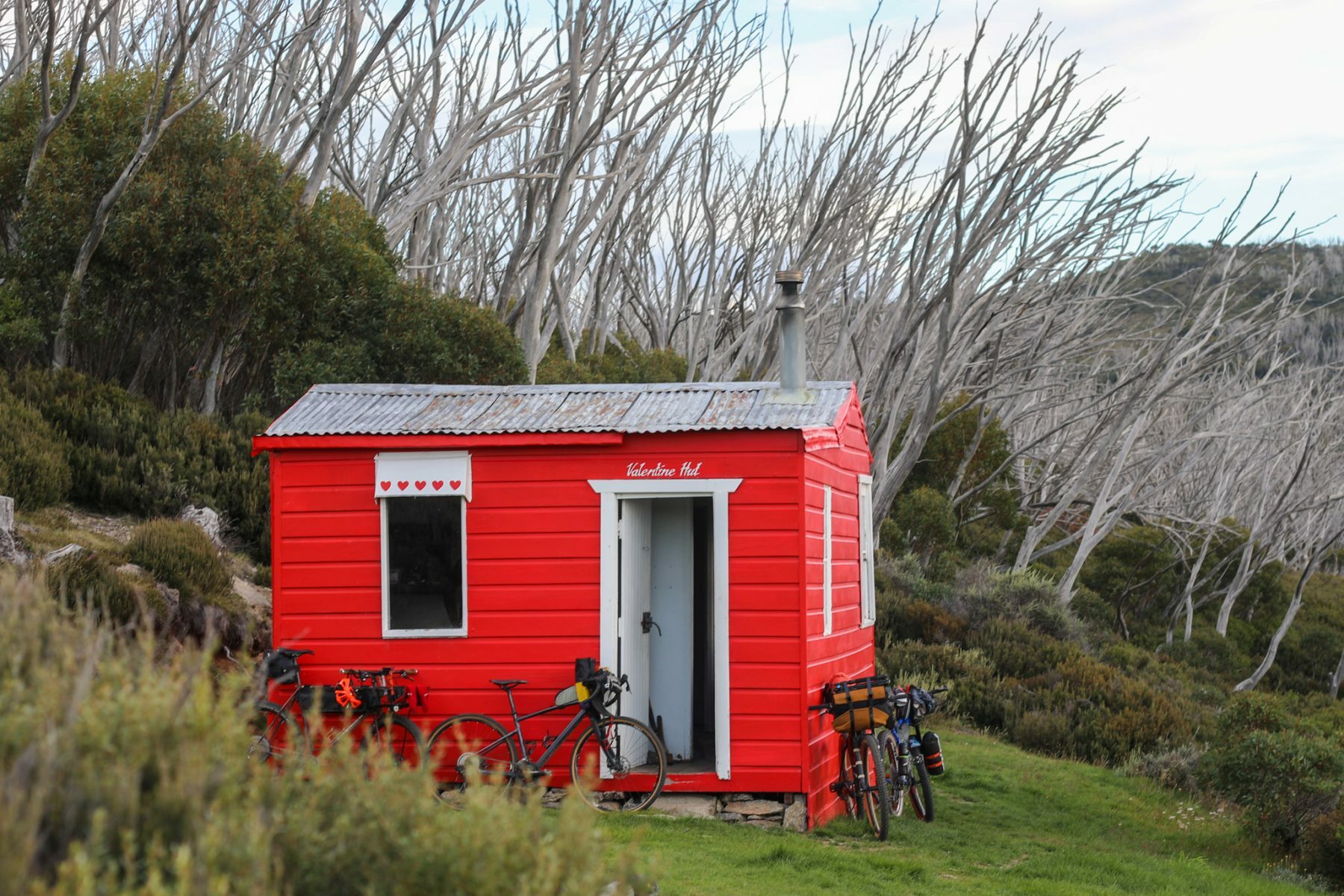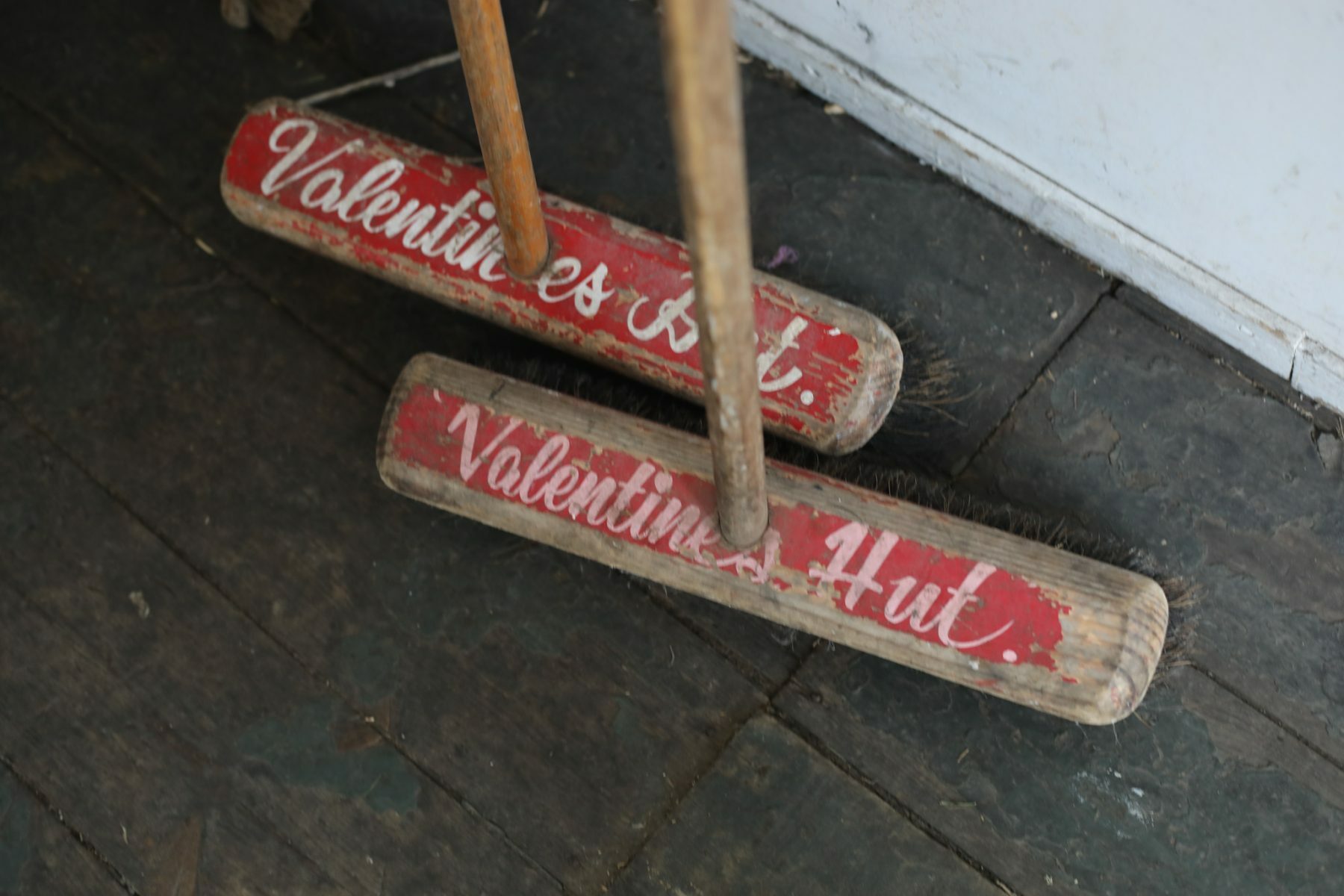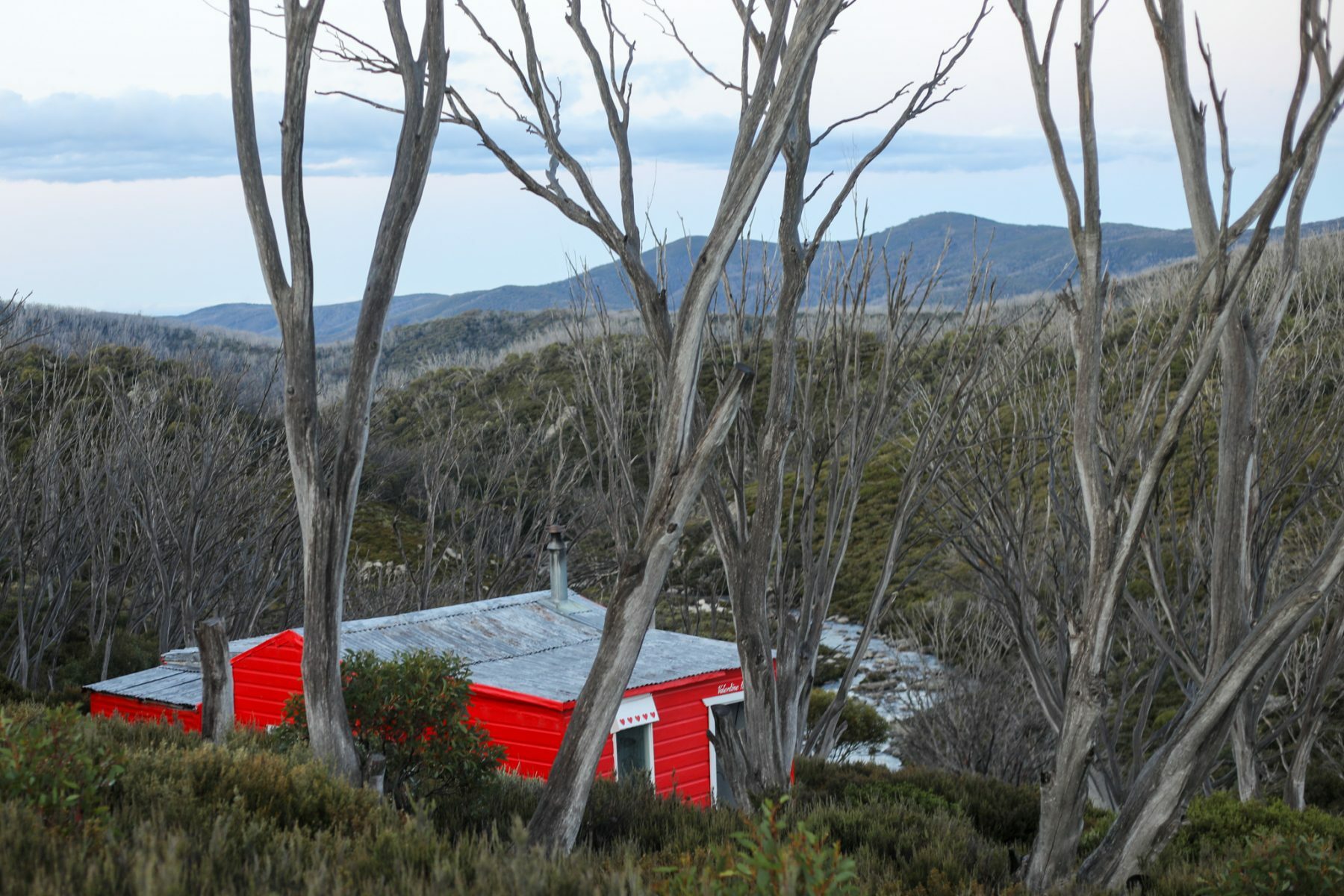 Valentine Hut
The good news, however, is that the hardships of Valentine Trail are totally worth it! In my opinion. You'll be stoked to round the final corner and see the vibrant red of Valentine Hut, nestled among the gums and scrub.
Just down the track from Valentine Hut is Valentine Creek, which is usually a reliable water source and a great spot to cool off in warmer months. The hut has a good table and a great little pot belly stove. There's space for a few tents out the front and rear of the hut, but the terrain isn't the flattest, so choose your spot wisely.
As with all historic huts of the Kosciuszko National Park, be sure to treat the space respectfully, obey all fire bans and sweep up after yourself. You might also consider becoming a member of the Kosciuszko Hut Association whom are caretakers of these beautiful historic huts.