Bikepacking the Hakea Trail
Fitzgerald River National Park is a reserve of great environmental significance and noteworthy intrigue. UNESCO deemed the park a Biosphere Reserve, in which 20% of WA's flora and fauna species thrive here, and many such as the Hakea Victoria, or its Noongar name, Tallyongut, are endemic to the area. Geographically, the park is divided into a western and eastern side, each comprising of a campground, a few hiking trails, a couple of paved roads, and a string of 4WD tracks leading down to the coast. You can't drive through the middle of the park from one side to the other, which means a vast majority of the reserve is protected from hordes of tourists. It also becomes mighty tempting for anyone enthralled by the notion of being surrounded by several kilometres of biodiverse wilderness and zero humans.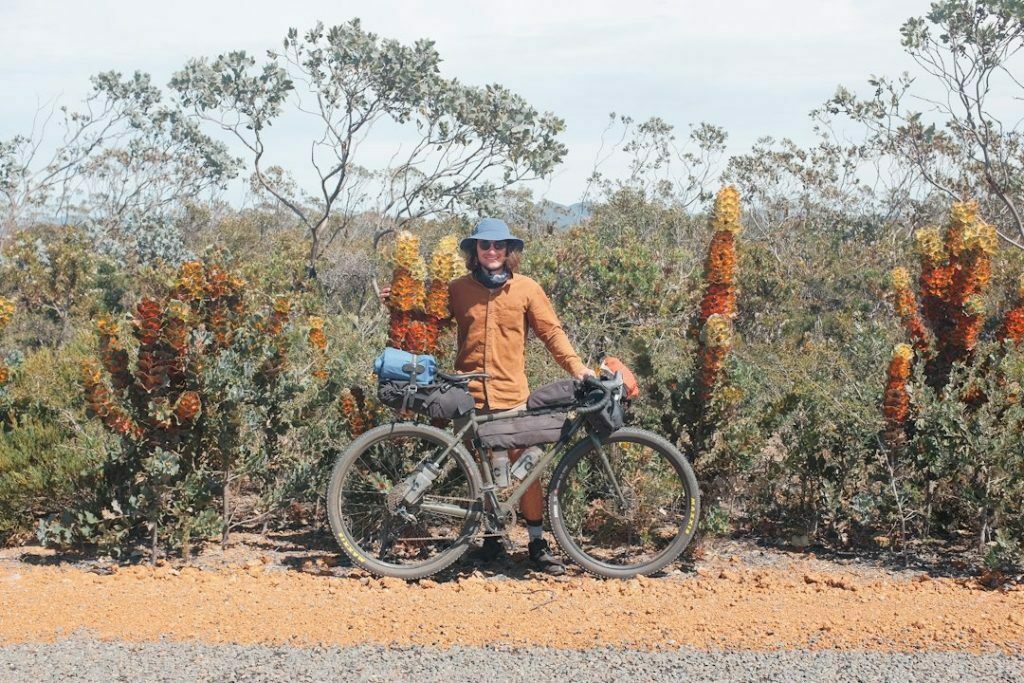 Hakea Victoria, or its Noongar name, Tallyongut, are endemic to the area.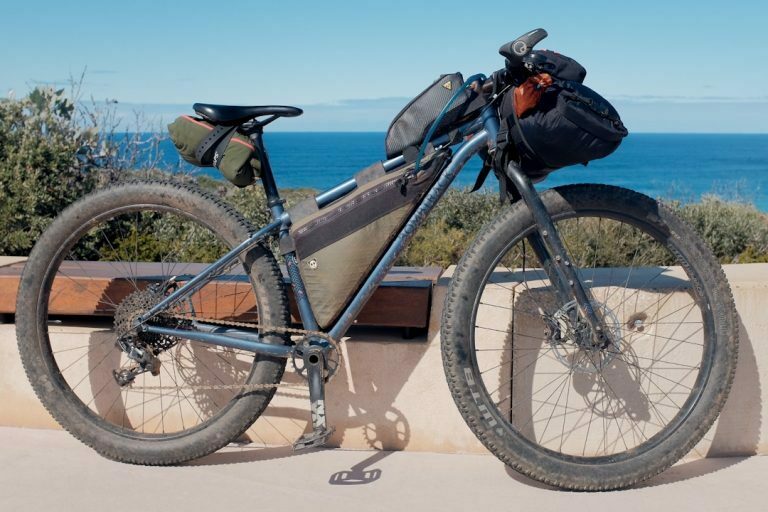 My Bombtrack Beyond 1+ with 27.5 x 2.8" tyres, and Nik's Kona Sutra LTD with 29 x 2.2" tyres.
The Hakea Trail
The path towards Fitzgerald River National Park's tantalising centre is via the Hakea Trail. This is a Grade 4, 23km hiking track that snakes the clifftops and drops down onto beaches, starting from the eastern side of the park at Cave Point.
My partner and I flip-flopped between hiking and biking the trail. Driven to get some bikepacking in and wanting to ride somewhere not many had rolled before, I did my research. I only managed to find one bloke who'd attempted to ride the trail on a loaded fat bike and bailed out after about 10kms because he was overwhelmed by an unhealthy number of stairs. Given this insight, paired with the fact that there would be a lot of sand, we went into the trip knowing there was a chance we'd need to bail out.
We packed relatively light (by our standards) and avoided racks in case we needed to haul steel rigs up and down the cliff face. The hydrated bags of Indian curry didn't quite fit, so we had to Voile strap them to Nik's seat pack.
Cave Point to Quoin HEad Campground
The trail itself is mostly comprised of fist-sized rocks and sand, but far less stairs that we had expected. After about 18km there's a speccy hiking hut by Whalebone Beach that has a loo and two water tanks, which was the real saving grace as it felt pretty crispy out there.
There was definitely some hike-a bike going on, but it was a glorious treat to be able to ride the beaches (thank you plus tyres). My butt got a good meat pulverising from the saddle as I rolled over rock after rock, and my mental patience was tested when flies kept trying to access the inside of my mouth whilst my hands were gripping the bars. Nik was fighting his own battle by constantly having to readjust the dahl that was determined to slide off the seat pack, but at least he had a buff over his face for fly-inhalation protection.
Despite these minor struggles, the trail was epic. The coastline is all turquoise beaches and mountain ranges, jagged rocks and spiney but pretty Aussie flora (pants were a good choice).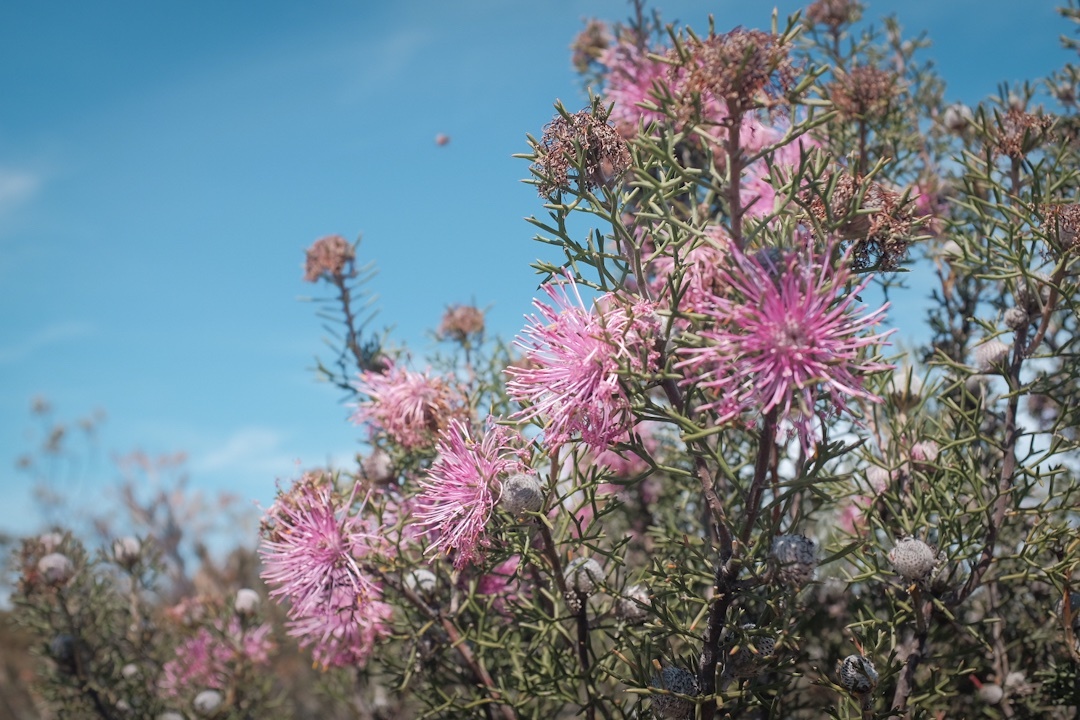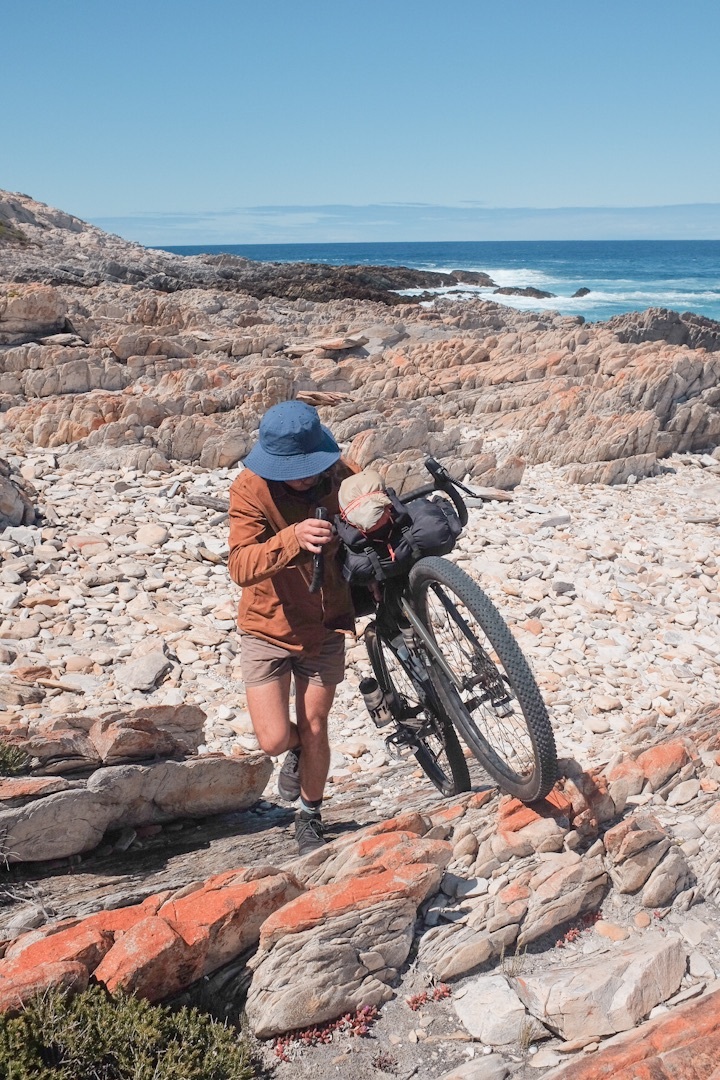 There was definitely some hike-a bike going on but despite these minor struggles, the trail was epic.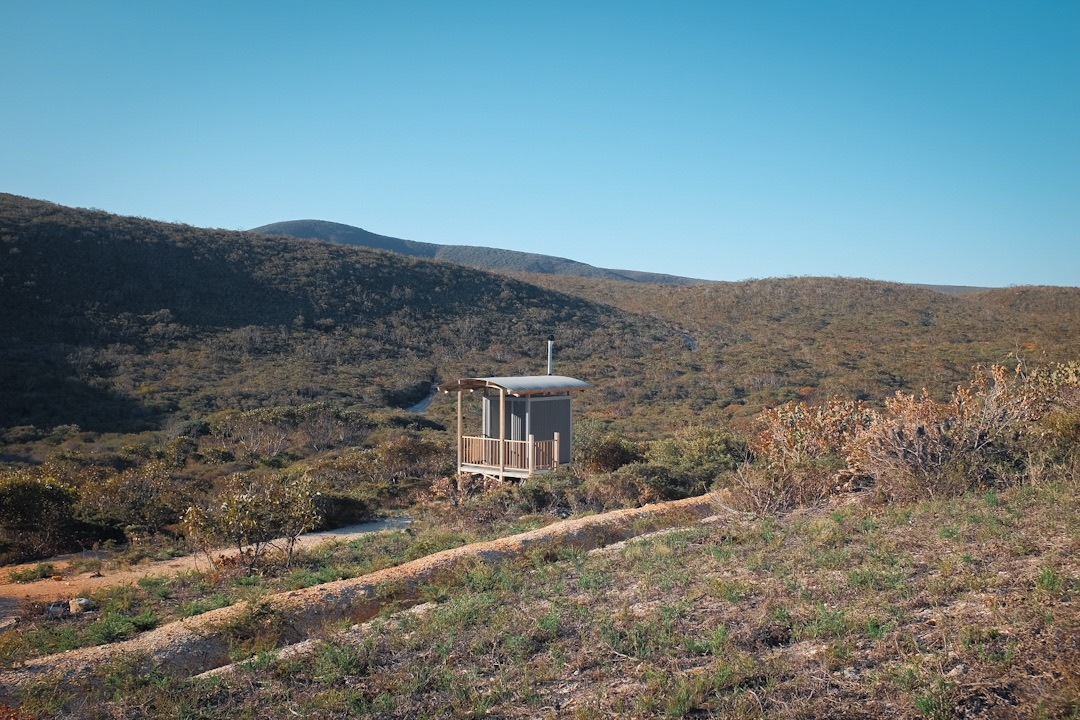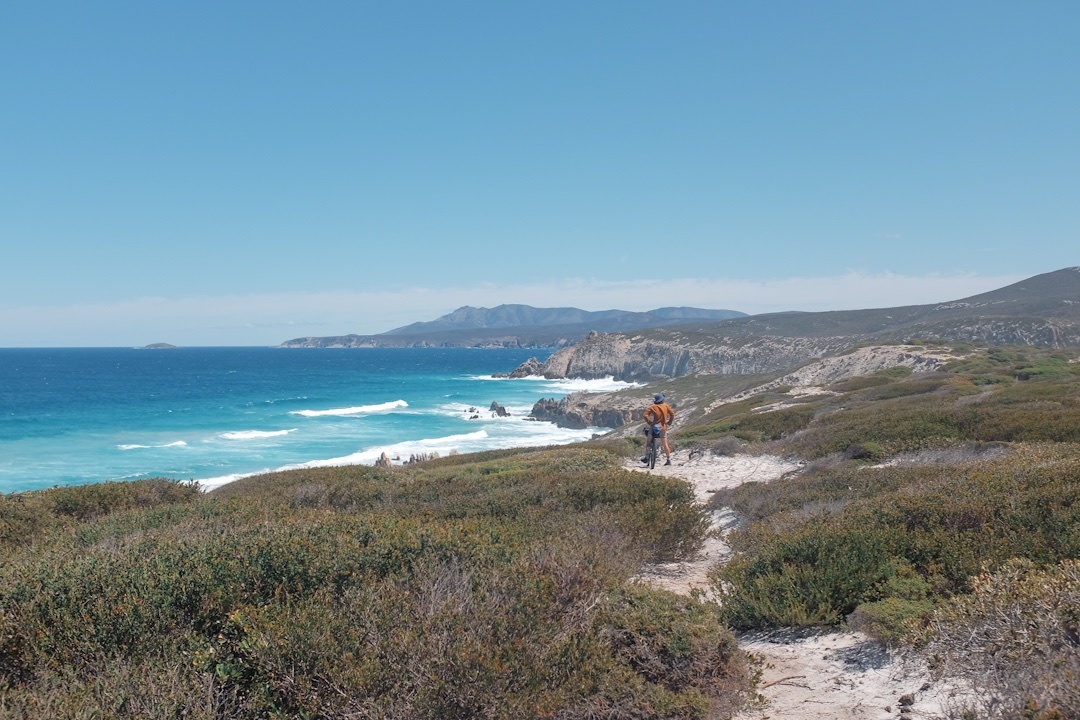 Loo with a view
Nothing gets me more excited than the first sight of a drop toilet that, when the door is propped open, provides a sweeping view of the outdoors. Whalebone Hut did not disappoint. We dropped our gear and rolled down to Whalebone beach, sandwiched between dramatic granite cliffs. Whilst toeing the icy water we marvelled in our isolation.
When dinner time rolled around, we sat on the balcony that looked down the valley towards the beach, then retired to our tent fly that provided essential mosquito protection.
Quoin Head Beach and homeward on Day 2
After an unpremeditated 13-hour sleep we were awoken to the intense rattling of metal panels. The wind was here and thank god for that (I was hopeful that the flies would be blown along their merry way). The 6km ride to the end of the trail was pretty picturesque and was only slowed down by our rude awakening of a large tiger snake who was pretty apprehensive about moving anywhere for our benefit.
Quoin Head beach is a bit of a postcard scene to behold but the 4WD access track we then rode out on would be quite the adventure in a motorised vehicle. The gravel and sand tracks directed away from the coast and around the back of the mountains, and you wouldn't want to do it on a hot day as there's minimal shelter and soft sand. Even I, on my big-wheeled steed, cooked it on a particularly sandy section and nearly took Nik down with me.
The gravel road continued to u-bend around back to the coast, then it was smooth sailing on bitumen to the car parked at the start line. Day two worked out to be 40km and took us under 3 hours.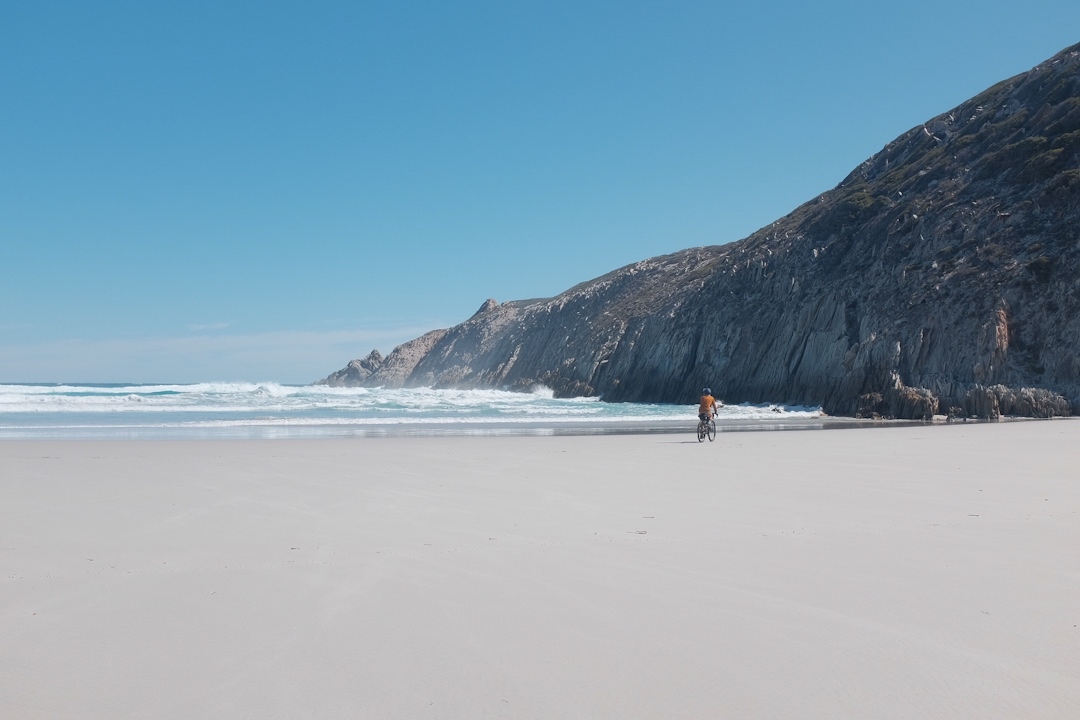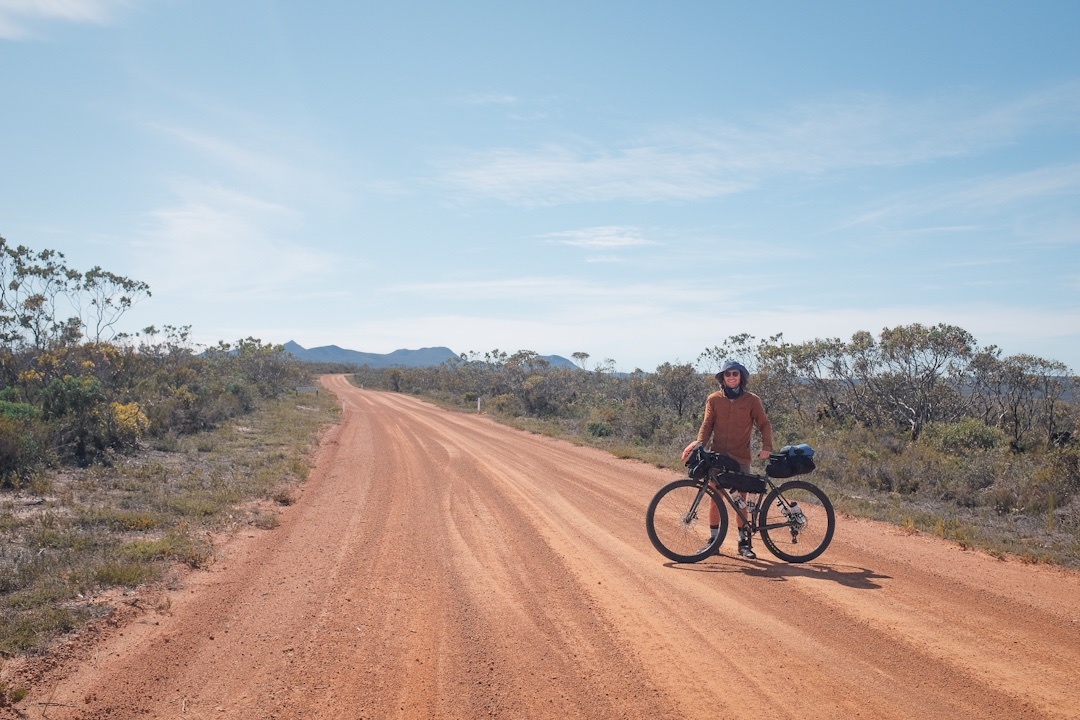 RIDER'S DISCLAIMER
I am aware that what we did was a little bit naughty. Yes, the Hakea trail is technically labelled a walking track, but one could also argue that there was no indication that bicycles were prohibited. We remained highly respectful of the track, the hut and other users. We washed our tyres before entering the park so there was no chance of dieback contamination. We stuck to the path at all times. There were no opportunities to do mad skids on the downhills or even make squeaky brake noises; we weren't going fast enough to use them. We packed in, and we packed out. By pedalling respectfully in the outdoors, bikepacking in Australia will continue to be a favourable and environmentally-conscious mode of adventure.