Bikepacking from the Blue Mountains to the Central Coast
This Blue Mountains to the Central Coast route is a mid-effort, two-night bikepacking weekender that starts, and ends, within a 2-hour train ride from Sydney. Beginning in Bell, the route follows some luscious gravel roads through Mount Irvine, Mountain Lagoon, the Convict Trail (Old Great North Rd), finishing at Ourimbah, on the Central Coast.
This route is very adaptable (see footnotes) and thus can be adjusted to suit both new and experienced bikepackers; plus contains only a few brief moments where you may need to push your bike.
Disclaimer – this route crosses the Bowens Creek Rd bridge which was destroyed in the December 2019 bushfires. Until the local council restores the bridge, they've advised that you can either hike-a-bike across the creek, or stay on Bells Line of Rd through to Bilpin to avoid this section entirely (this detour removes approx. 12km of gravel)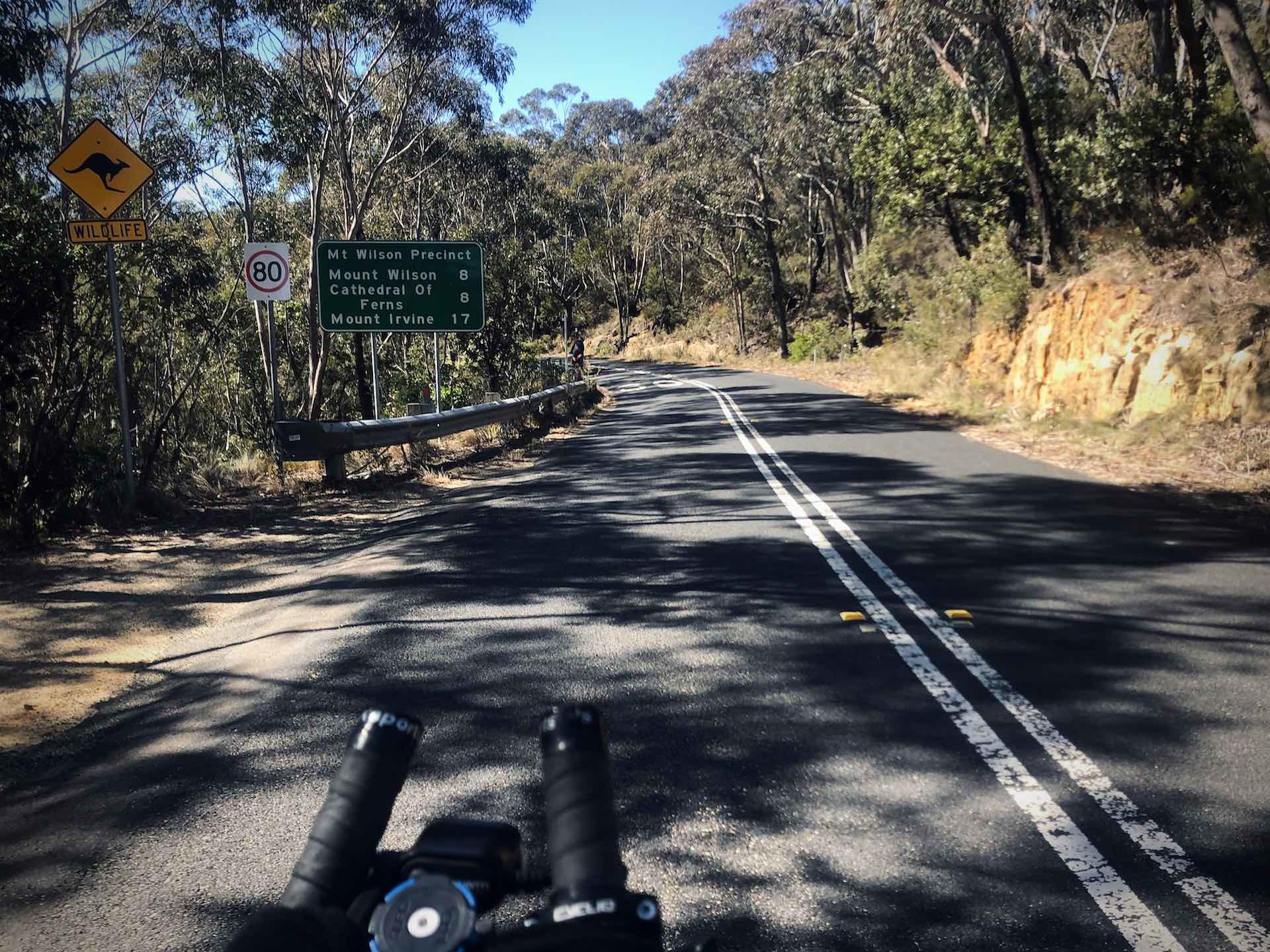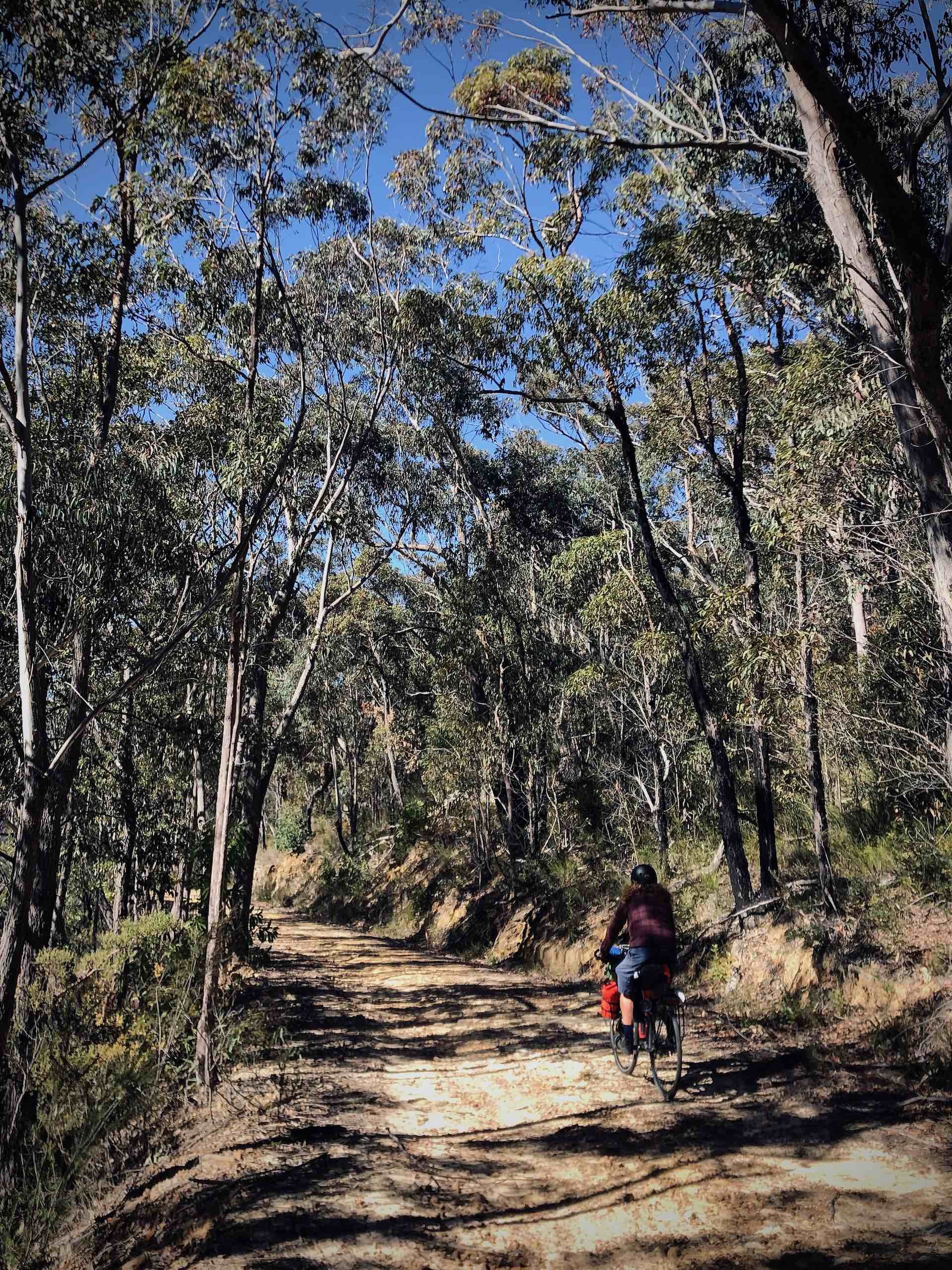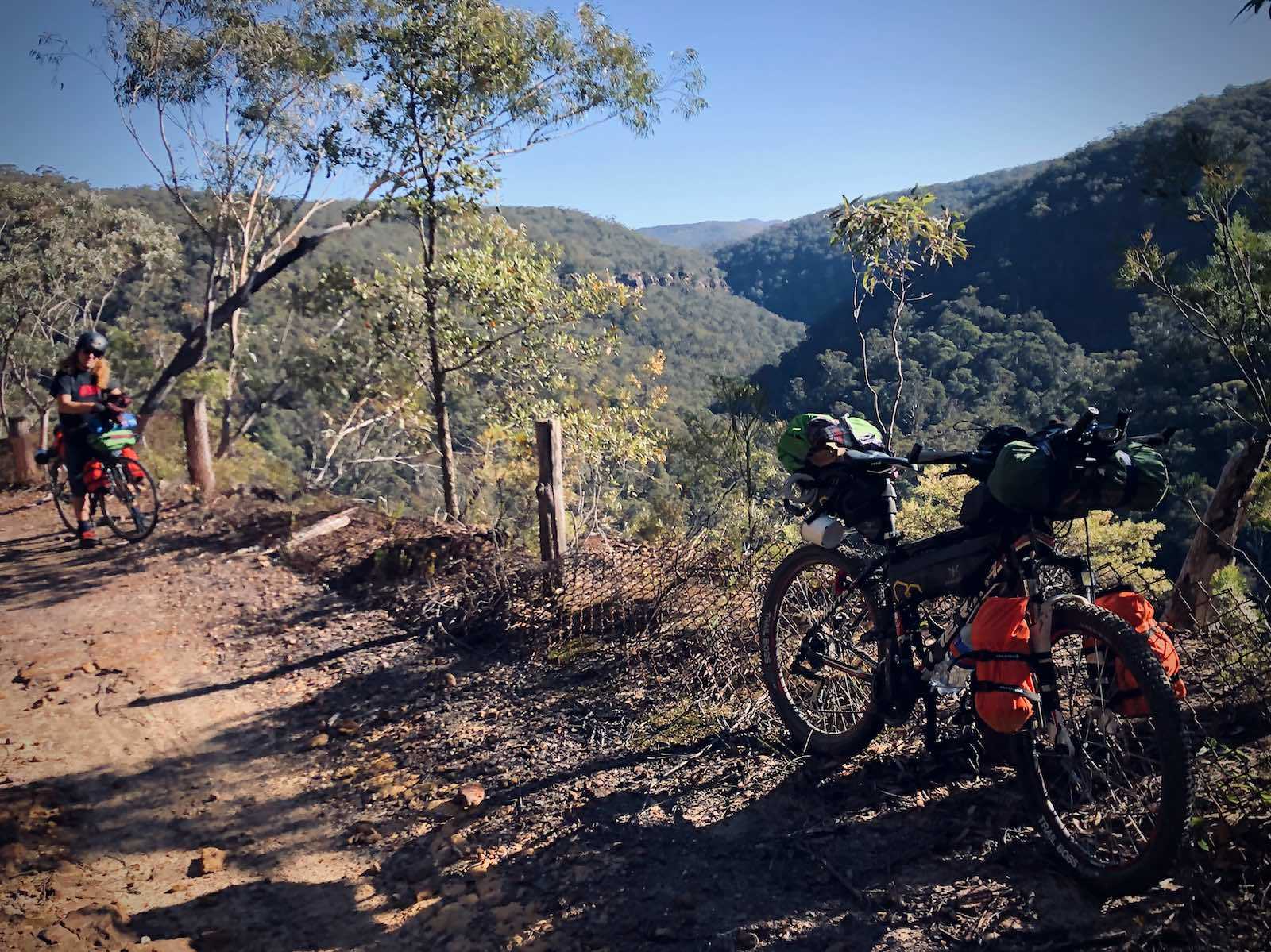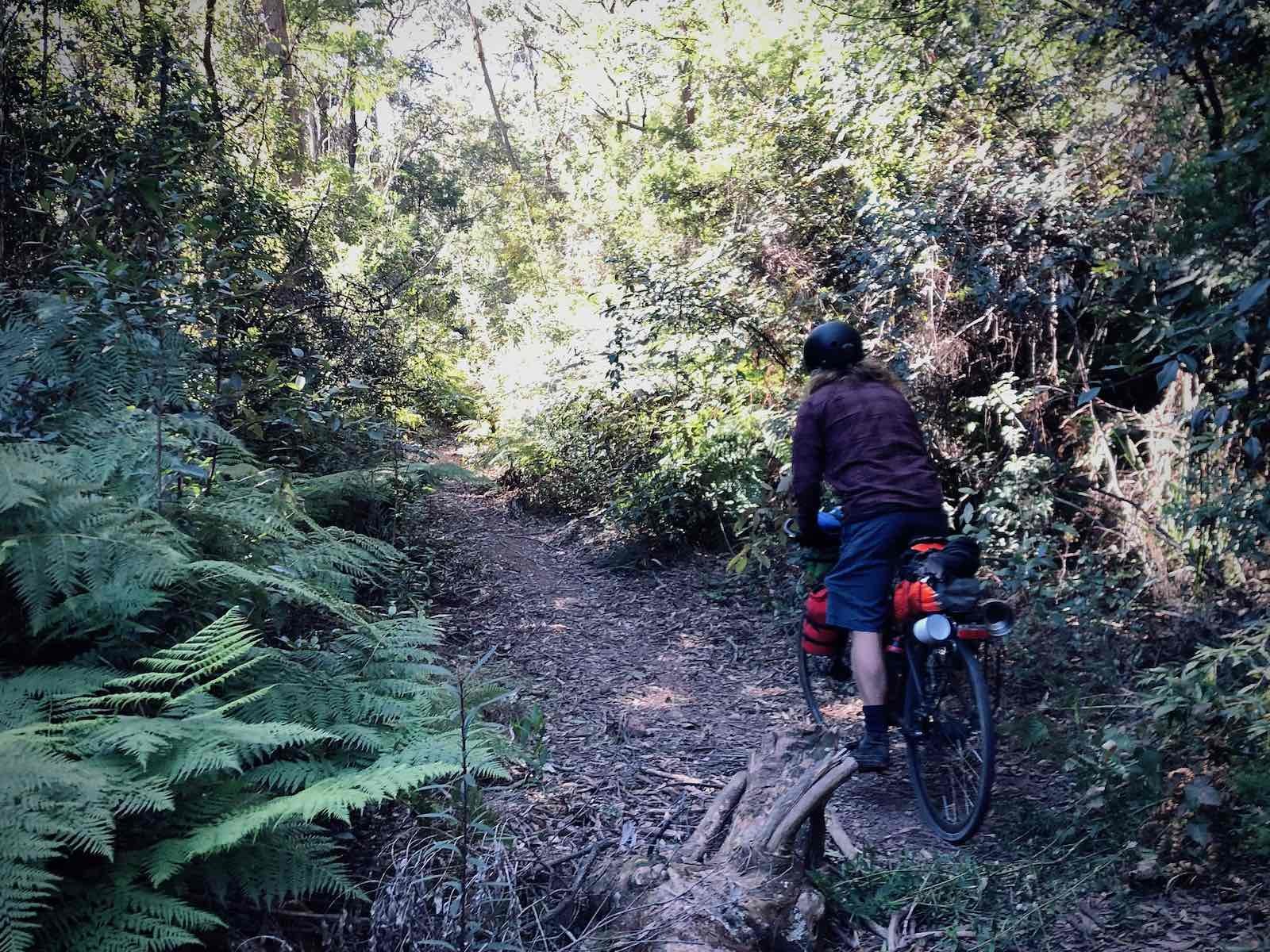 Beginning in Bell
Rolling out of the train station at Bell, the first half of day one includes a whopping 2,000vm of descending. The initial 25km is spent on the tarmac; taking Bells Line of Rd, then via Mount Wilson into Mt Irvine Rd.
Given our late(ish) start, we stopped for an early packed lunch amongst the warbling magpies at a little picnic area at the 14km mark on our way into Mount Wilson. Back on the road for another 10km, we arrived at Mount Irvine where the road transitions immediately into a lush gravel surface, protected by a national park gate, keeping the cars at bay. The road is ours!
The descent down Bowens Creek Rd is glorious, starting as a wide fire trail, but slowly converging into super fun (and occasionally technical) single track, traversing the ridge-line with beautiful views across Wollemi National Park (and a very pointless fence giving a false sense of security from the very steep drop).
After descending Mount Irvine, the trail meets Bowens Creek, and an old timber bridge which was sadly destroyed during the December 2019 bushfires. The local council(s) are currently in discussions to approve funding to restore the bridge, however in the meantime it is still possible to push your bike down to the creek and cross by foot (you may need to remove your shoes). Alternatively, a bypass route is provided, linked in the disclaimer above.
On the other side of the creek, a road once frequented by 4WDs has been reclaimed by the bush, with narrow single track and fallen trees creating what is almost a tunnel through the undergrowth. Only a few more kilometres of this however, and we arrive back on Bells Line of Rd.
Campsite one – Upper Colo Reserve Campground
We ride through Bilpin, then along the relatively flat and quiet Mountain Lodge Rd towards Mountain Lagoon. The tarmac transitions back into dirt for an immensely fun 10km/600vm descent down to the Colo River, where we arrive at Upper Colo Reserve campground.
Upper Colo Reserve varies in busy-ness throughout the year, however there is plenty of space to find a secluded campsite near the river's edge. Fires lit, tent pitched, beers consumed followed by a dip in the Colo River, it's a great way to either end or start the day. Be sure to wander down, barefoot onto the pristine soft sand, regardless of whether you intend to swim or not.
Leaving camp mid-morning, we ascend Colo Heights Rd and cut across Putty Rd onto Wheelbarrow Ridge Rd. Make sure you stop for an obligatory photo op with the Red Rooster sign. The tarmac continues just a little longer before the gravel takes over, leading us on a gradual descent into a trail through more beautiful bushland.
Eventually we are fed onto Bicentenary Rd, which is pretty much textbook gravel-descent finery. This brings us to our first ferry. Just a couple of minutes to cross the Hawkesbury, we roll into the Wisemans Inn Hotel where burgers and hops-based sports drinks are devoured.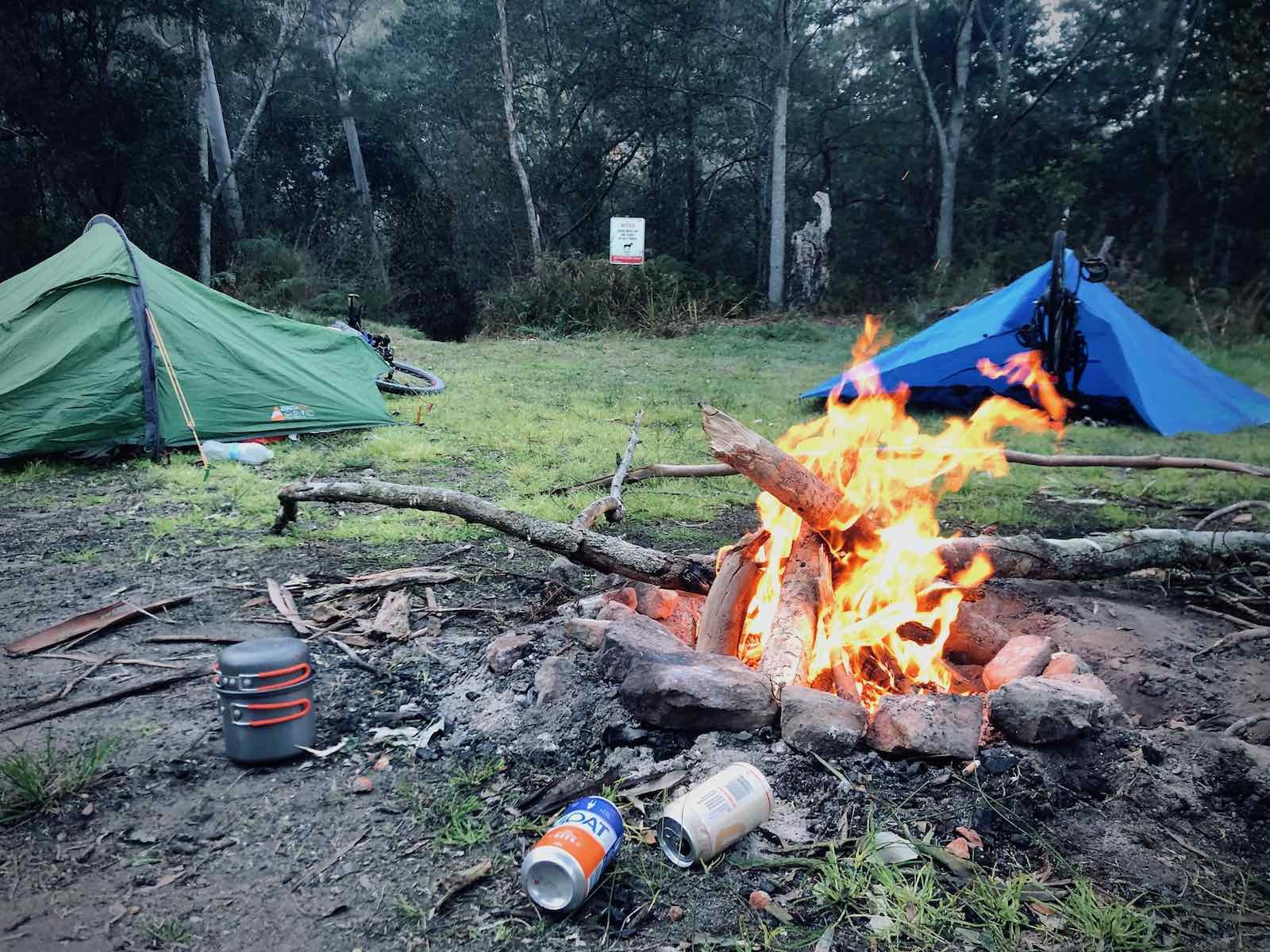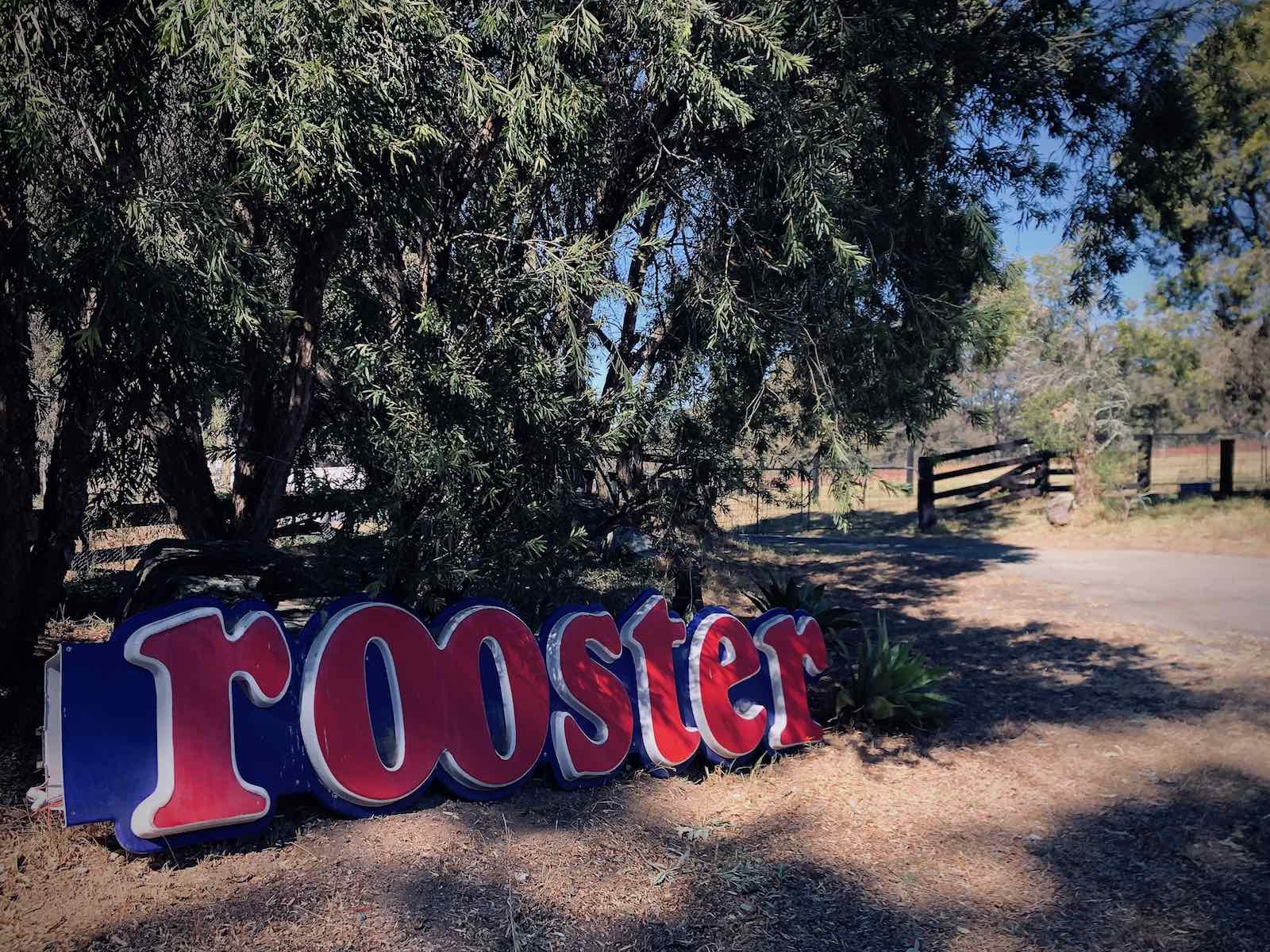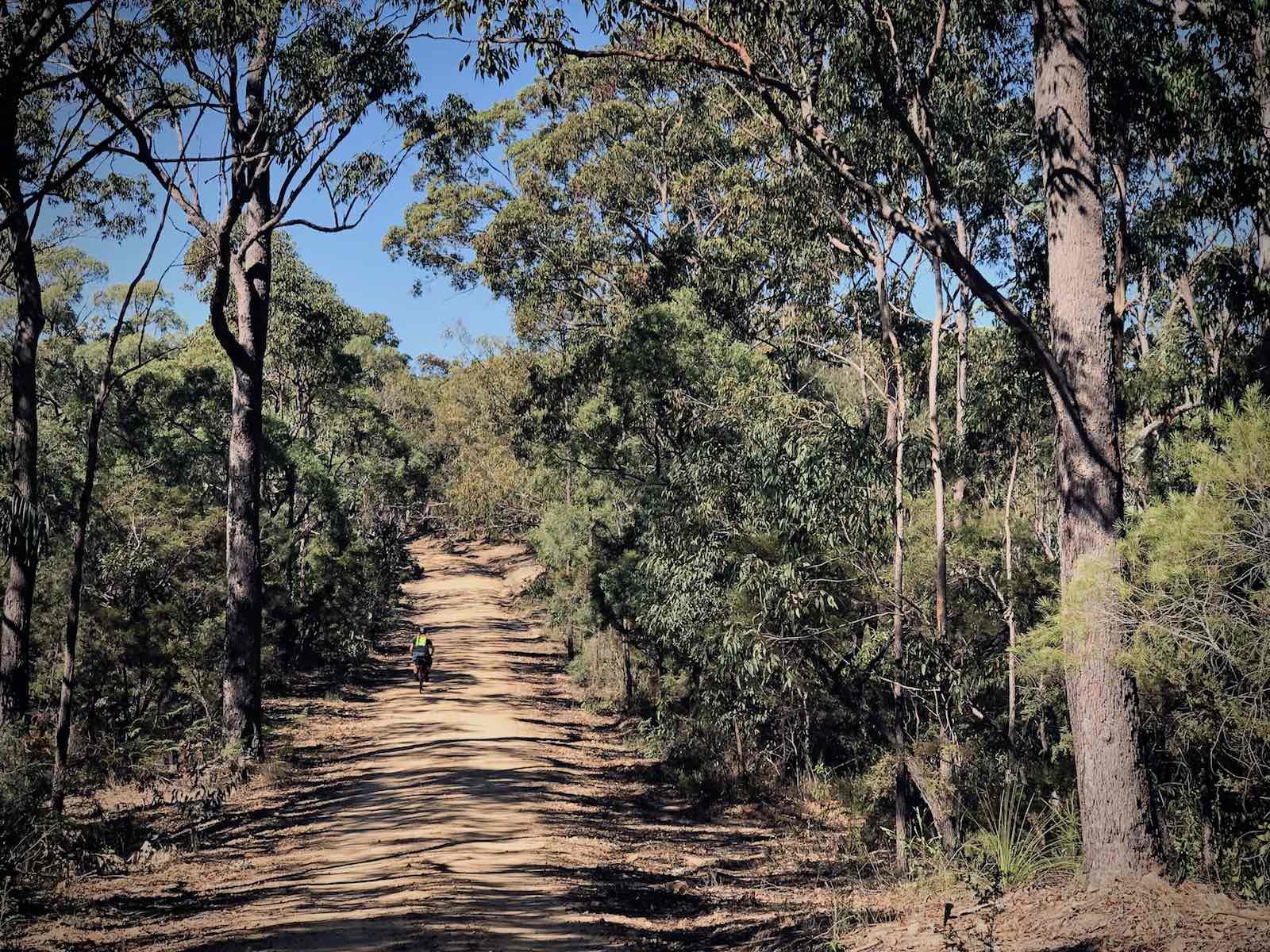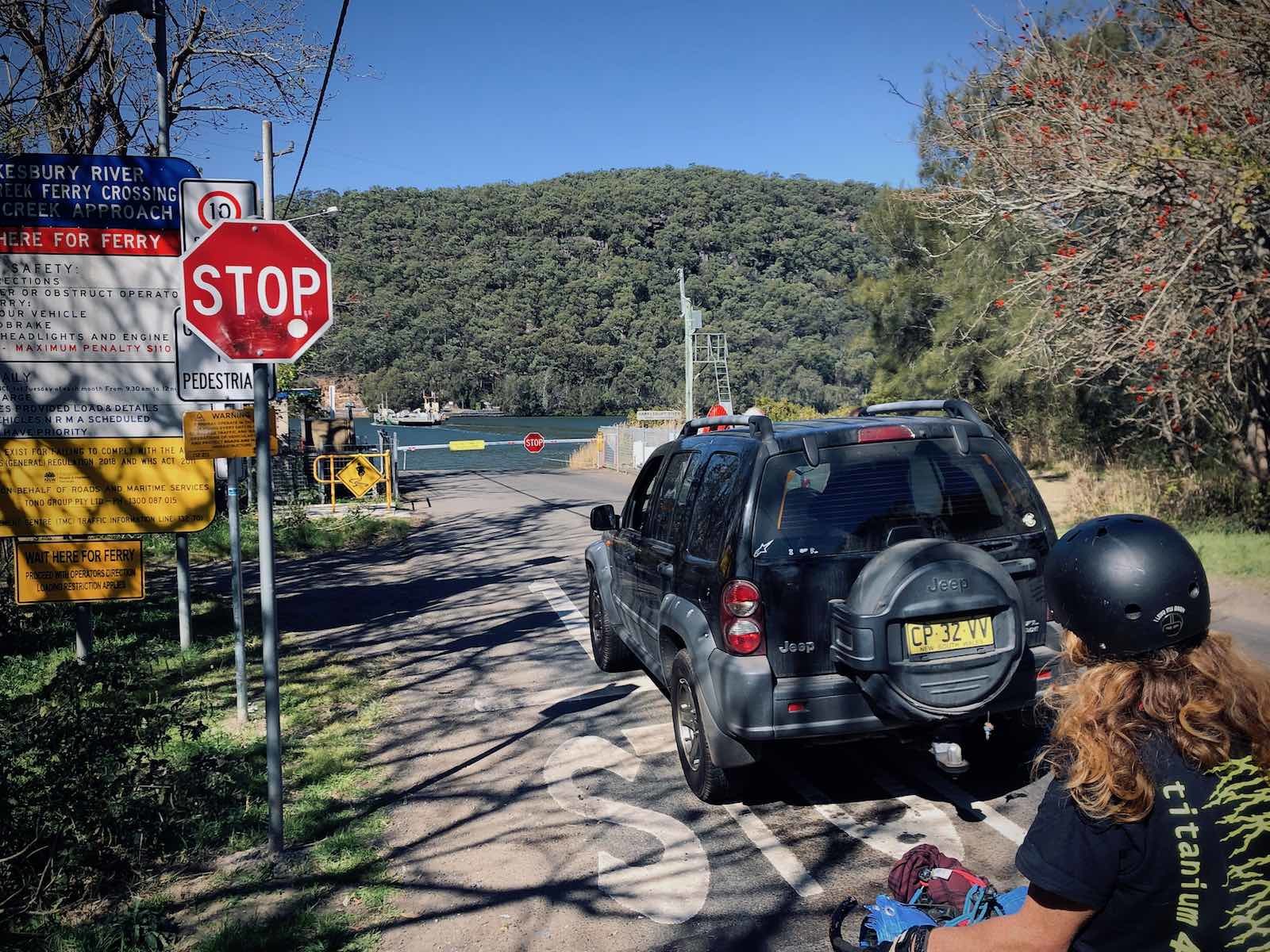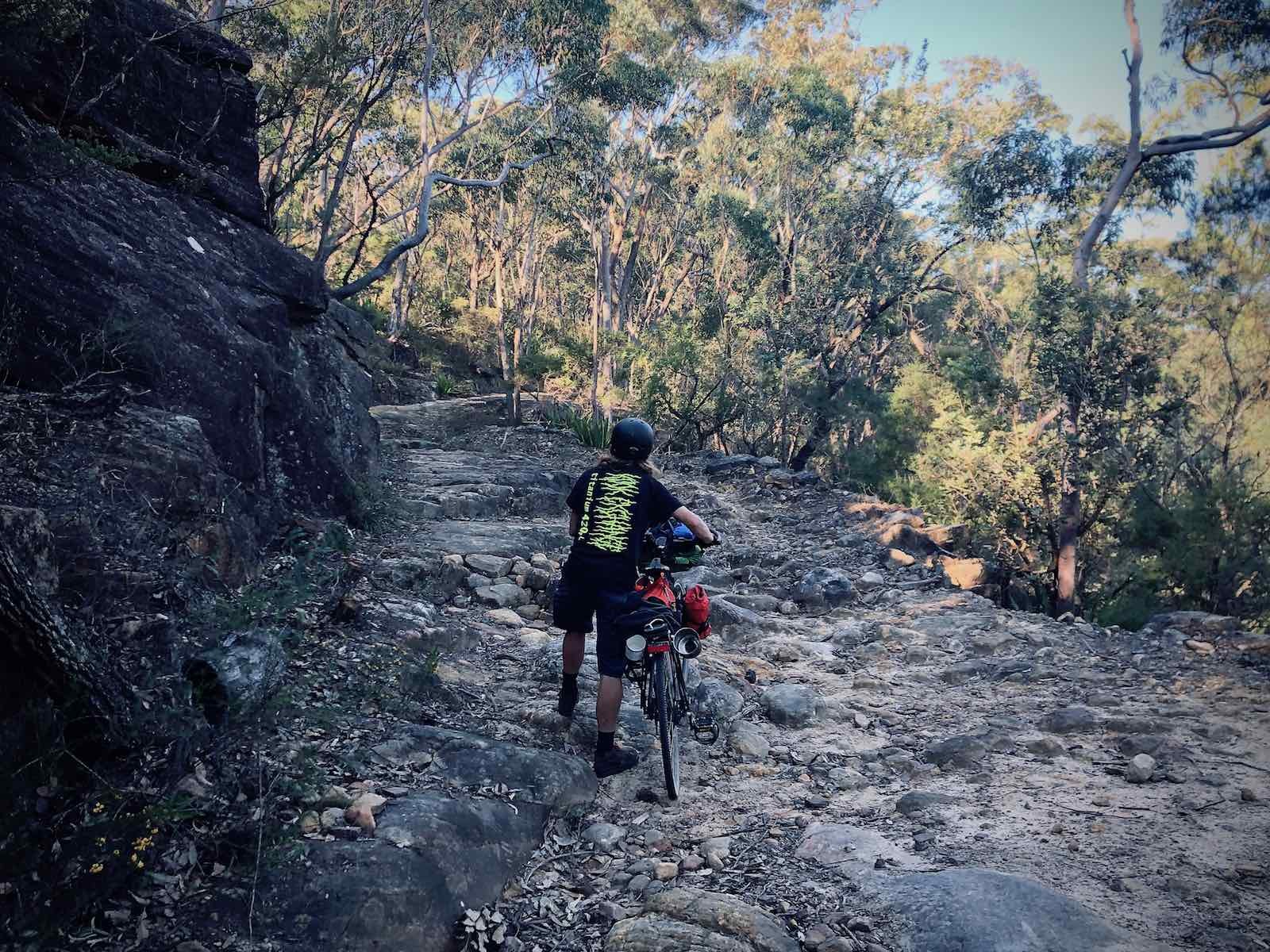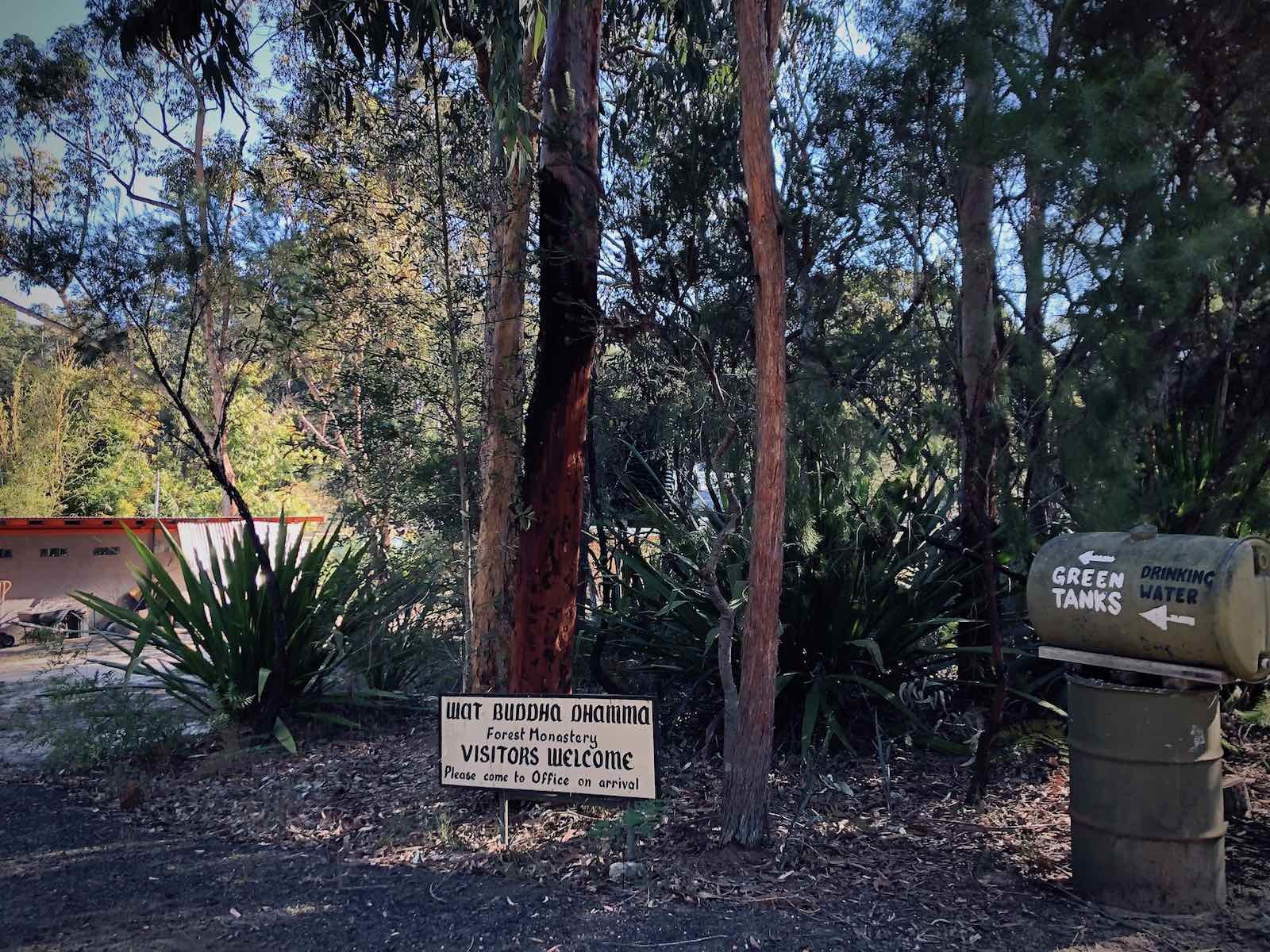 The Convict Trail (Old Great North Road)
Post lunch, water supplies are replenished at the Caltex servo across the road, and we're straight back on the next ferry, which drops us at the entry point to the Convict Trail. This is the 'start' to a key part of the convict-built Great North Road; an overland route between Sydney and the Hunter Valley. Old Great North Rd is an incredibly beautiful route to ride, with a good mix of both well maintained, and twisted & jagged surfaces, both just insanely fun to ride (and sometimes walk).
Keep an eye out for plaques and memorials along the way. This stuff was built by hand and imagining that horse-drawn carriages traversed this road is insanity. The road eventually makes its way down a lovely dirt descent into Ten Mile Hollow. Just before you hit the campsite, you'll find the Wat Buddha Dhamma Theravadin Forest Monastery, where visitors are welcome for water resupply. A God-send for this water guzzling bikepacker.
WBD was impacted by the 2019 bushfires, however the water tanks have now been rebuilt as of November 2020.
Campsite two – Ten Mile Hollow Campground
Ten Mile Hollow campground is a beautiful place to pitch the tent for the night, only accessible by hikers and cyclists, if you find yourself sharing the communal fireplace with others, they're sure to be like-minded folk.
Hint – keep an eye out for the lemon trees. I didn't see them myself, but some hikers we met informed us that they were planted by the convicts back when the trail was built; apparently the fruit makes a beautiful tea.
The following morning we depart the campground, back-track for water supply at the monastery, then continue along Old Great North Rd, with its magnificent rolling gravel, and stunning views. The descent down Donnys Track to Mangrove Creek has some good, slippery and fun(?) brake check moments.
The ascent from Upper Mangrove into Mangrove Mountain made my legs hurt, but being 10x heavier than my bike probably didn't help. Climbing out of the pinch, we were back onto Wisemans Ferry Rd, for the final and steady 22km or so roll down to Ourimbah station. We acquire a few sneaky train station beers, and waited for our ride home.
This route sticks out as one of my favourite weekenders so far. A great mix of surfaces, scenery, and history, not to mention an excellent pub lunch.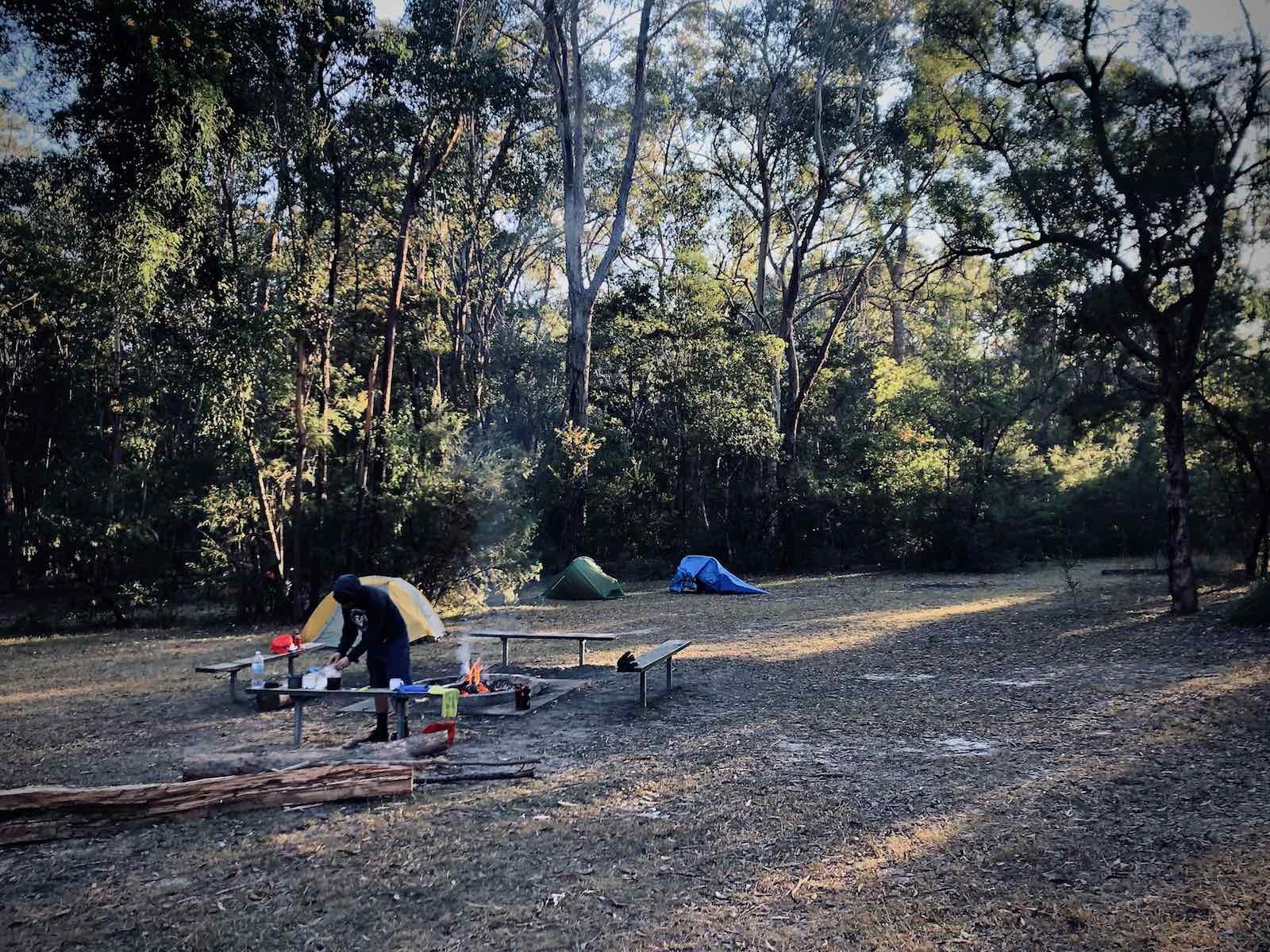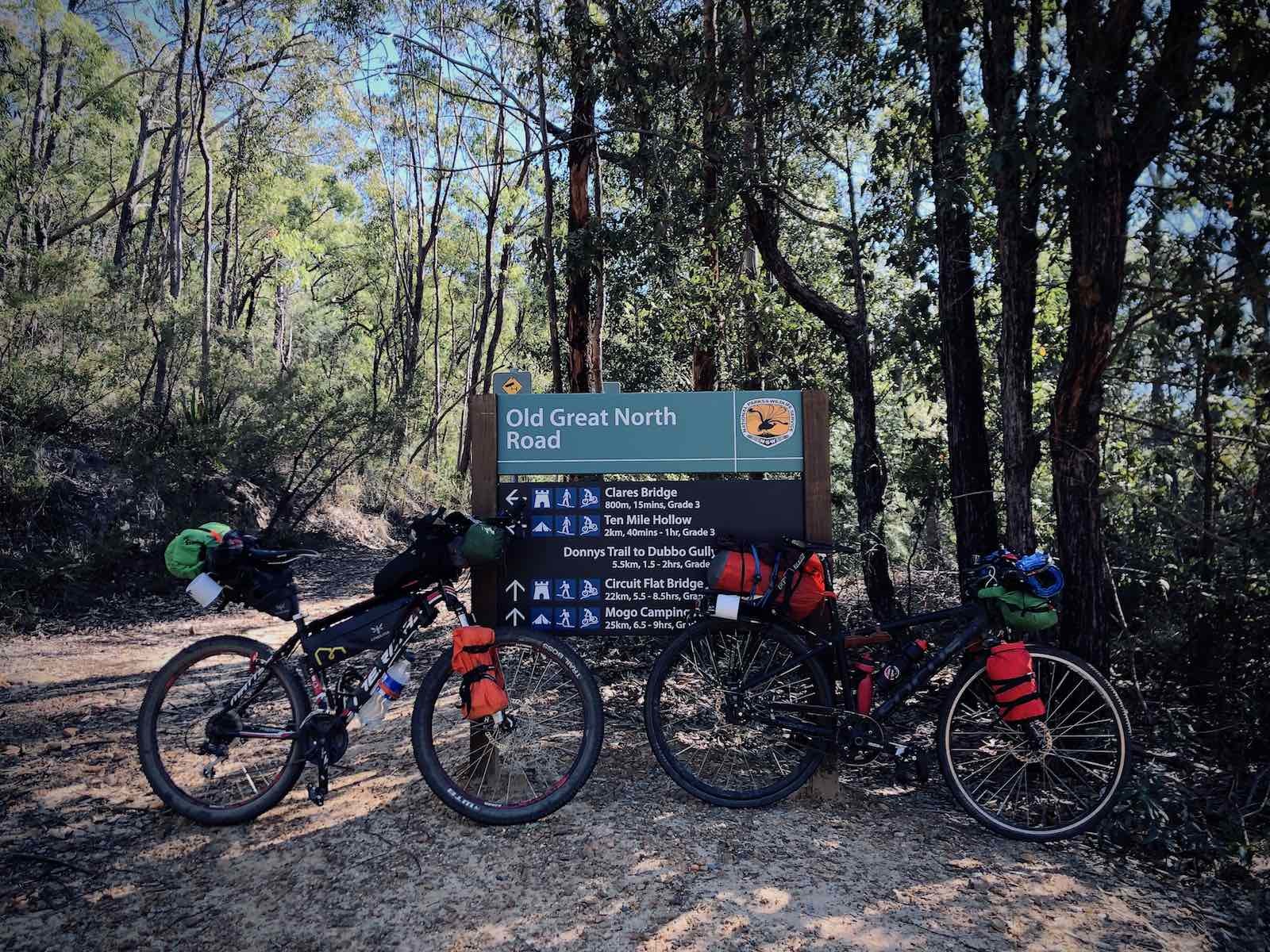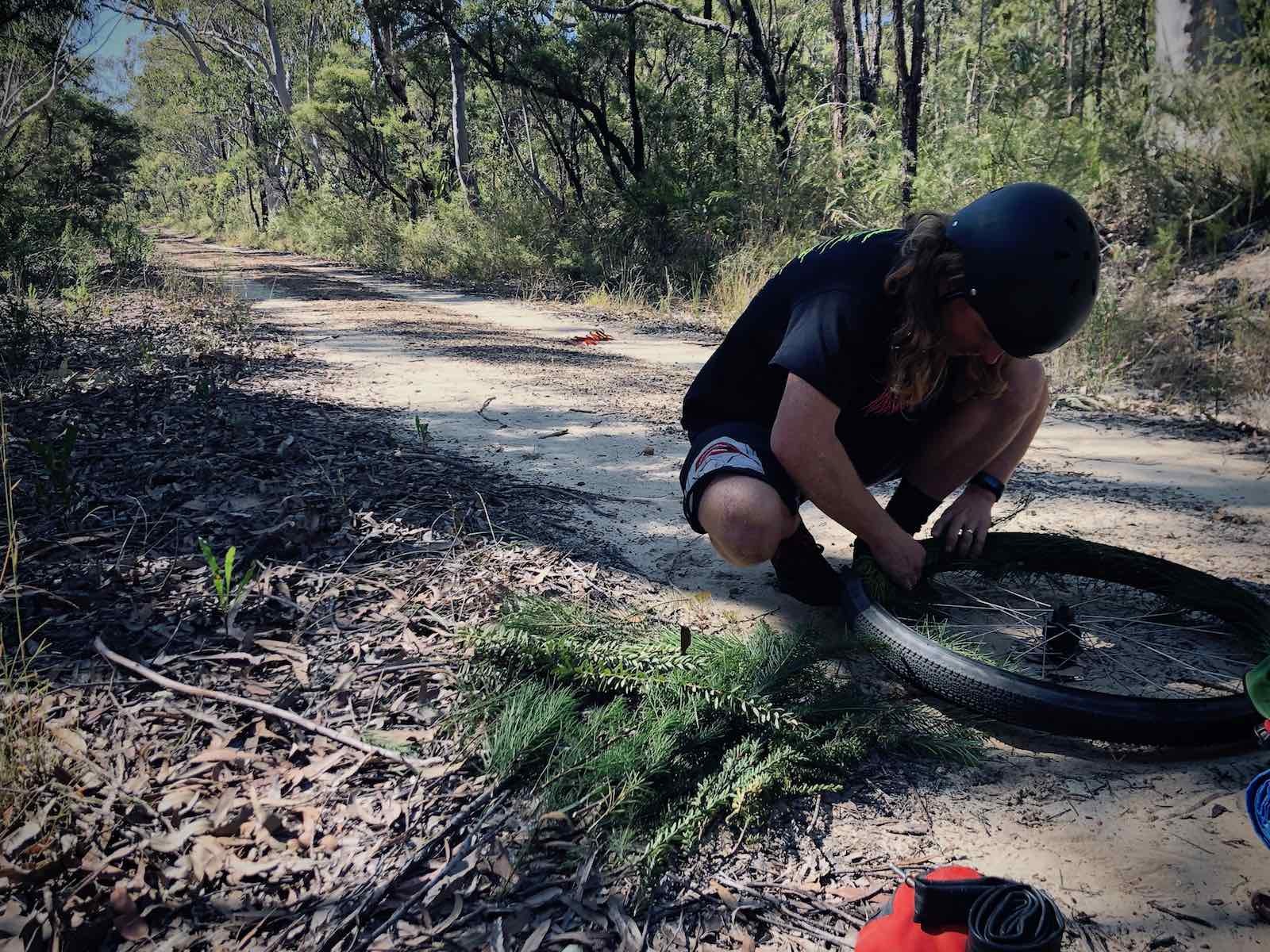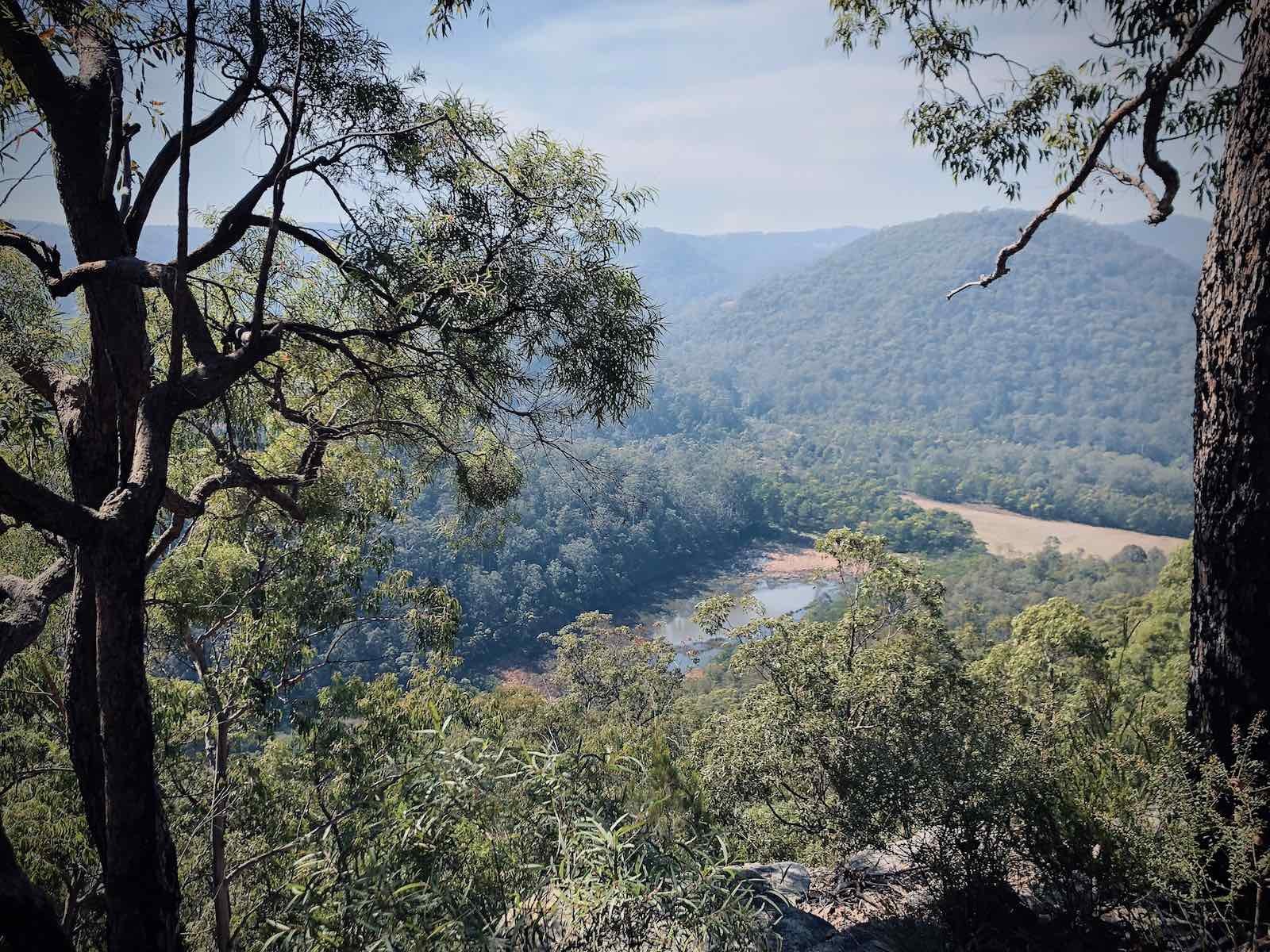 Notes:
Take enough supplies to last at least until Wisemans Ferry. This is the only decent resupply point on the route.
This route may be adapted easily based on rider experience… some examples:
Extend convict trail to Mogo
Replace convict trail with St Albans gravel
Start Richmond and join at Mountain Lagoon road