Bikepacking Auckland Winter Solstice Campout
It's not often that you hear about Auckland's wild west coast being bragged about, at least not when I grew up in Sydney. No one had ever told me about the Jurassic ruggedness of an untamed mountain range 40 minute's drive from the middle of Auckland, until I moved here, primarily to ride bikes.
40km Riding to Anawhata Craw Campground
My familiarity with the Waitakere Ranges had been stunted, when most of the gazillion trails in there – once the outdoors backyard of hikers, bikers and runners – had been closed off indefinitely to curb the dieback disease that was decimating the Kauri trees.
The rain forecast was a tad fearful, with an expected 28mm of rain to dump within an hour before our set-off time. Confused with how to appease the rain gods, whether to sacrifice or to stop sacrificing to them, we forgot about the tornado gods, who made a freak landing in one suburb of South Auckland that very morning. (May our thoughts be with the family of the man found deceased under the toppled pile of shipping containers.)
Actually, oblivious to the news, we started our ride with lunch at a café like we'd already done a ride. Our 40km route would get us to Anawhata Craw Campground from the city, via cyclepaths, some gravel roads and the lung busting 'Concrete Monster' driveway of an estate.
When we'd thought we'd already lost one person, it turned out he was on call 24/7 for work. "What's your job?" we asked and he replied with "mortician" while intercepting calls. Later, we joked that we just needed a midwife in our group to have your life stages looked after, since afterall, George is an Oncologist.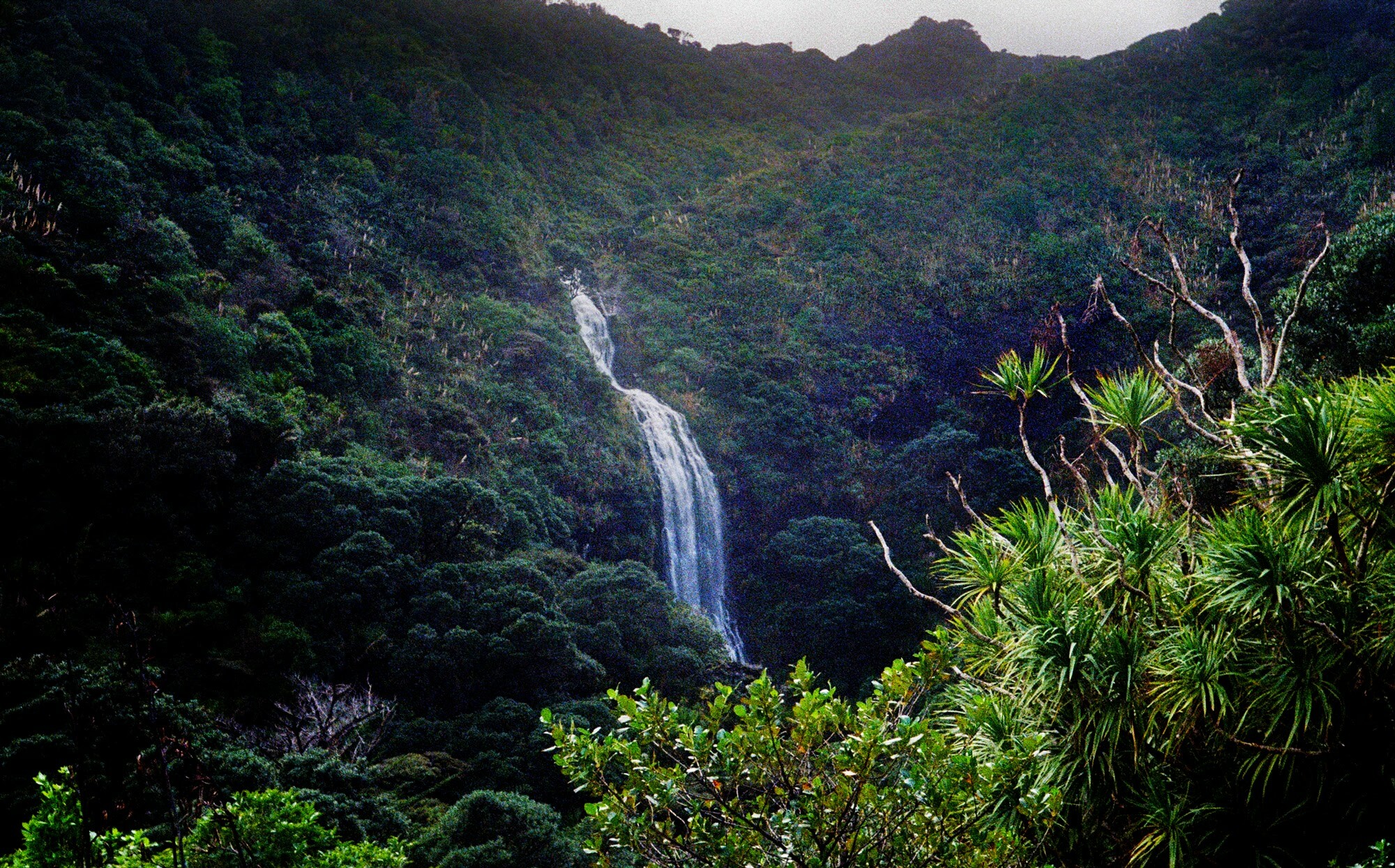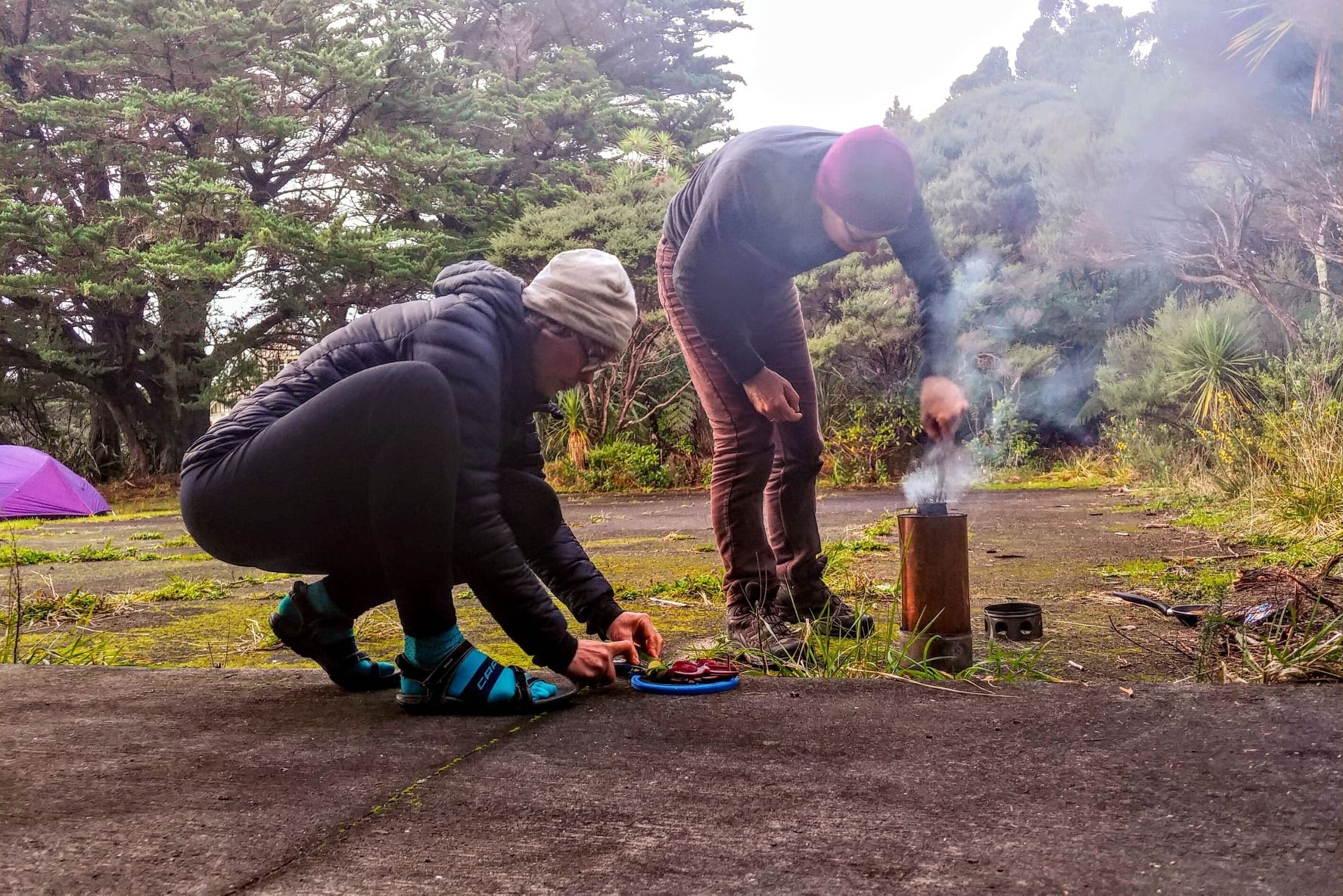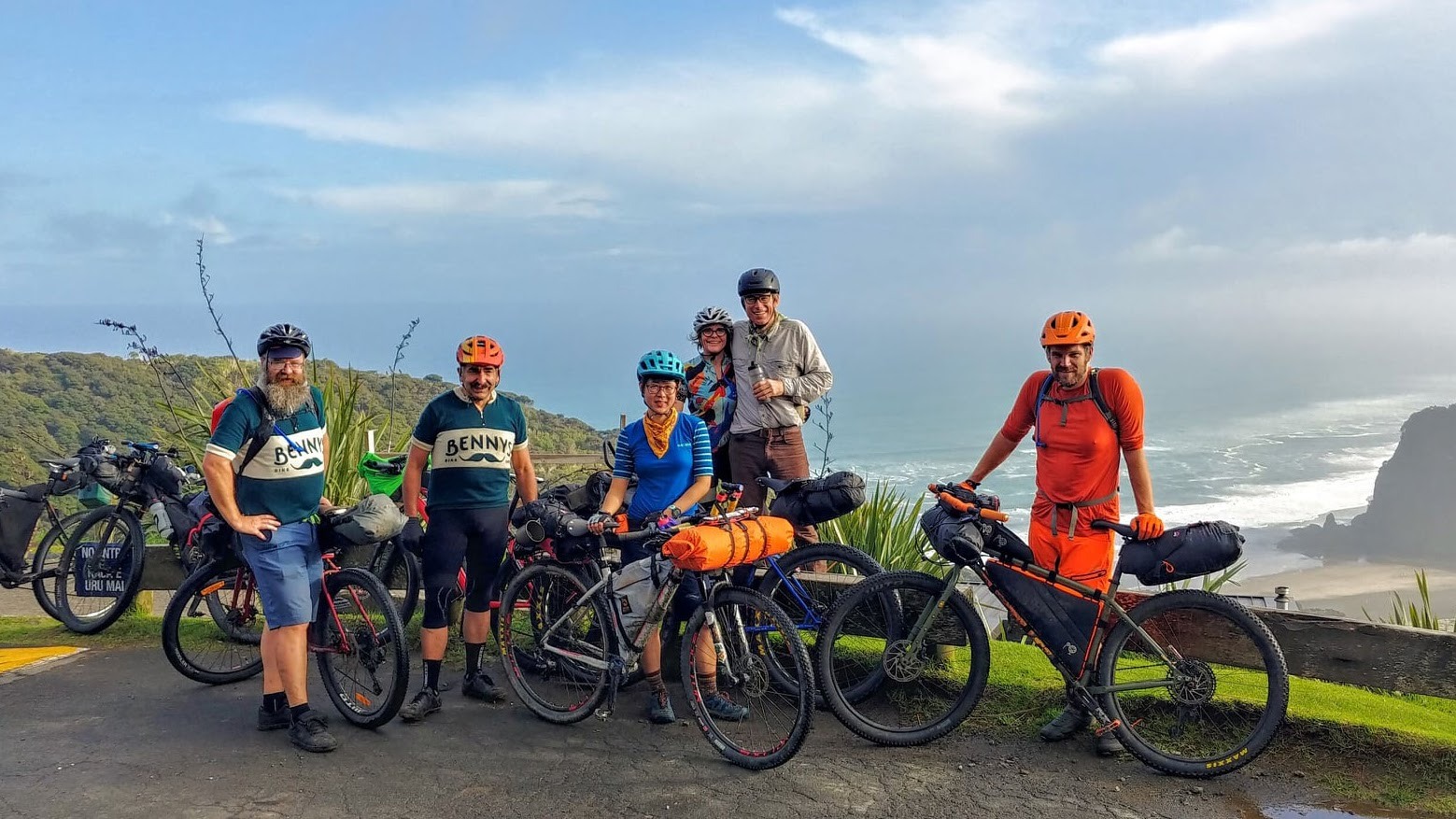 Bikepacker Fine Dining
It seemed like everyone's objective was to get comfy and toasty as soon as we arrived at camp and George had, at once, set off to work his army surplus thermette burner.
It's a wonder that between him and his wife Anne, they managed to carry cooking equipment and food no ordinary bikepacker would contemplate, namely potatoes, kumaras, sausages and eggs.
Not letting them put me to too much shame, I cooked up the Asian vegetarian version of comfort food – tom yum noodles, shitake mushrooms, freeze dried tofu skins, gluten pieces, garlic sprouts and an egg, while Craig and Michael were adamant that they were fine eating cold food.
After a few marshmallows and a few swigs from our flasks, we called it a night. It turns out I was the only devout bivvy bagger, but there was no way I was pitching a tarp in the open tonight. I had eyed the large open shelter when I did my research and took my chance to make the claim to say I've now slept on a picnic table like a homeless bikepacker.
Day Two – Back Along the Beach
Our route on the second day took us down a steep council property driveway and a short section of walking trail with stairs, to Piha Beach where we rolled along on the hard sand, dashed through a stream and parked up at the general store for hot drinks. A grind up Piha hill connected us to the start of Mercer Bay Track, Colmans and Te Ahu Ahu tracks. While not officially biking-trails, we took care to be friendly to walkers and disinfected our shoes and wheels upon entering (protocol in Kauri dieback areas).
The wild west coast views opened up to magnificent coastal cliffs, before entering a twisted forest canopy as we descended towards Karekare on a gravel track. A gushing waterfall, the therapeutic sounds of the rushing streams and fresh greenery dripping in the rain had made a new experience of the familiar route back to the city.
With the delays of two punctures in the rain, we were glad to finish our little solstice wilderness mission at Bennys Bike Shop for some 'special reserve' (for bikepackers) bin-dived Prosecco and beers.