Mattie's Open One +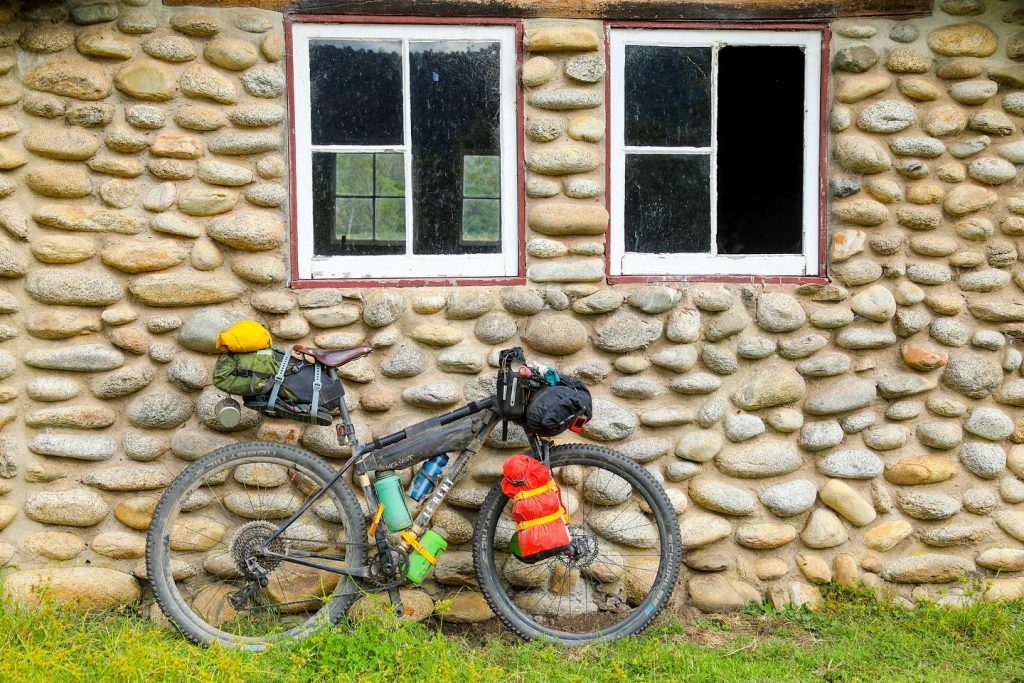 What's the story behind your rig?
This bike was initially built up for long xc mountain bike rides and with the 2019 Hunt 1000 in mind. Unfortunately, a last minute injury stopped me from riding the Hunt that year, which was probably a blessing in disguise as I was woefully unprepared and fairly inexperienced. I ended up loaning this bike to another rider that year, as their bike broke about 150km into the ride – they completed the rest of the 1000km route on the bike, which filled me with confidence that the bike could handle the route (now it was just my body holding me back).
I chose this style of bike because 90% of its life is spent unloaded and I wasn't ready to have a 'dedicated' bikepacking rig sitting in the shed. Is it the perfect 'bikepacking bike', probably not, but it's the bike a have and the bike I use.
As the bike isn't designed for bikepacking, I had to be creative to add extra carrying capabilities. For the extra water bottle under the downtube, I wrapped the frame in tape (sports tape), placed some old inner tube between the cage and frame, and zip-tied it on with three zip-ties. I used a Sea to Summit stretch-loc strap to hold the bottle on and for extra security should the zip-ties fail. On the suspension forks, I used a similar approach, zip-tying cages and backing it up with straps around the bag and fork. The fork cages did slide around the fork leg during the trip, so perhaps using a bit of tape around them would have kept them in place a bit better.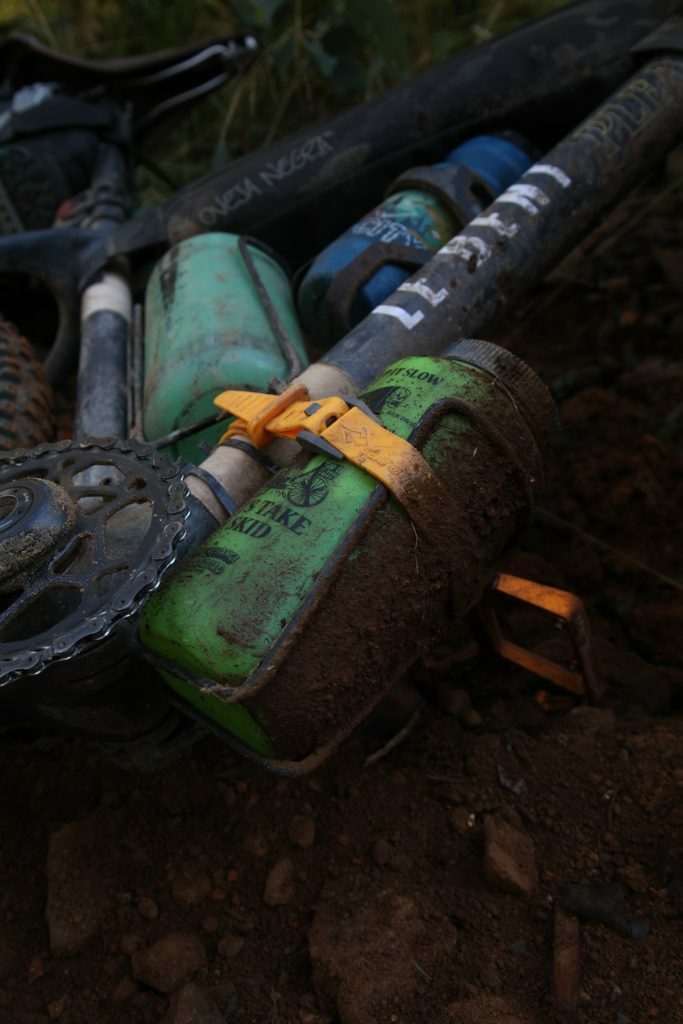 What trip was this rig setup for?
The bike is setup for the 2022 Hunt 1000, which I completed over eleven days, this March. The Hunt 1000 is a 1000km route between Melbourne and Canberra. Most of the route is off-road, on a very wide variety of surfaces and with plenty of climbing! Over 24,000vm of elevation gain.
What camping gear were you carrying?
For this trip, I was carrying a full camping setup, ready for many days of remote riding – it's probably the most loaded this bike has ever been. Definitely the most loaded any bike I've ridden has been as I think I was more prepared than I usually am when heading out on short overnighters.
In my left fork bag (dry bag) I was carrying my tent. It's a TarpTent pro trail. I love it because it's lightweight, but I find it quite narrow and when the inside collects condensation, I'm constantly aware of it brushing against my quilt. The two tent poles were strapped across my handlebar roll.
For sleeping, I was testing out a Sea to Summit Ember 2 quilt, a Zorali sleeping mat and Zorali pillow. This was my first trip using the quilt and I was worried that it might not be warm enough in the high country, as I'm usually a cold sleeper. A combination of milder weather, and the fact that the quilt was surprisingly (to me at least) warm and cosy, meant I was more than comfortable, needing to stick a foot out of the quilt to cool down, rather than huddle in for extra warmth. All of this sleep system was packed into my handlebar roll.
My cooking system was held in the saddle bag and consisted of a titanium mug, by Hunt Bikes, small gas stove and ultralight burner (not sure what brand). Cooking on the trip was minimal and consisted of dehydrated meals eaten out of their bag.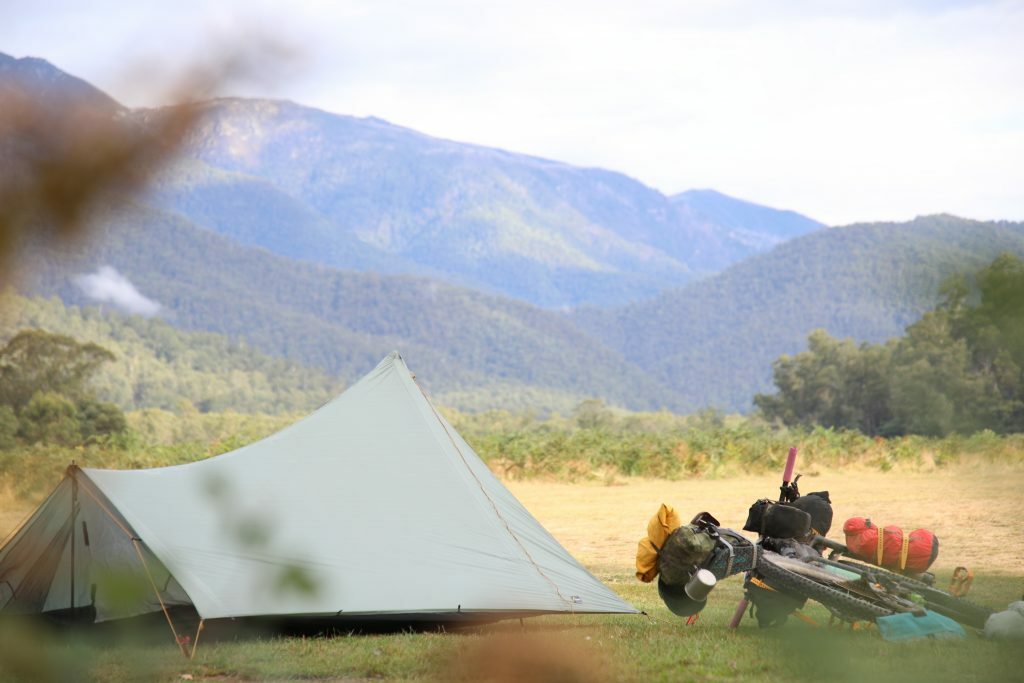 Bike and Bags:
Bike: Open One + 29er with Rock Shox SID World Cup 100mm forks.
Bags: On the front, I've got a Hunt Bikes handlebar roll and a couple of Sea to Summit dry bags strapped to the forks. On the rear is an Oveja Negra Gear Jammer and in the middle is an Oveja Negra ½ frame pack, both from local Aussie dealer BikePackShop. A Chuckbucket is holding snacks and a couple of litre cages are holding extra water.
Tell us about the things you love, or things you'd change about this rig:
The main thing I like about this setup is that it's super comfy to ride. Over the entire Hunt I had no complaints from back, shoulders or even butt. A lot of that comfort factor probably comes from the ten year old Brooks saddle that is definitely worn in.
Gear wise, the bags did their job. I wish I'd used a second feed bag on the handlebars, just so I had even more variety of snacks within easy reach. The tight frame triangle meant getting water bottles out was slightly fiddly, but that was the compromise of gaining extra storage from adding a 1/2 frame bag.
If I had the money, foresight and organisation skills, I should have replaced my drivetrain before the ride. It was at the end of its natural life before the ride, and it certainly is way beyond that now. I'd also swap out the suspension forks for rigid forks, with cage mounts, just for added peace of mind that the bags weren't going to slide around into my front wheel.