James' Marin Nicasio+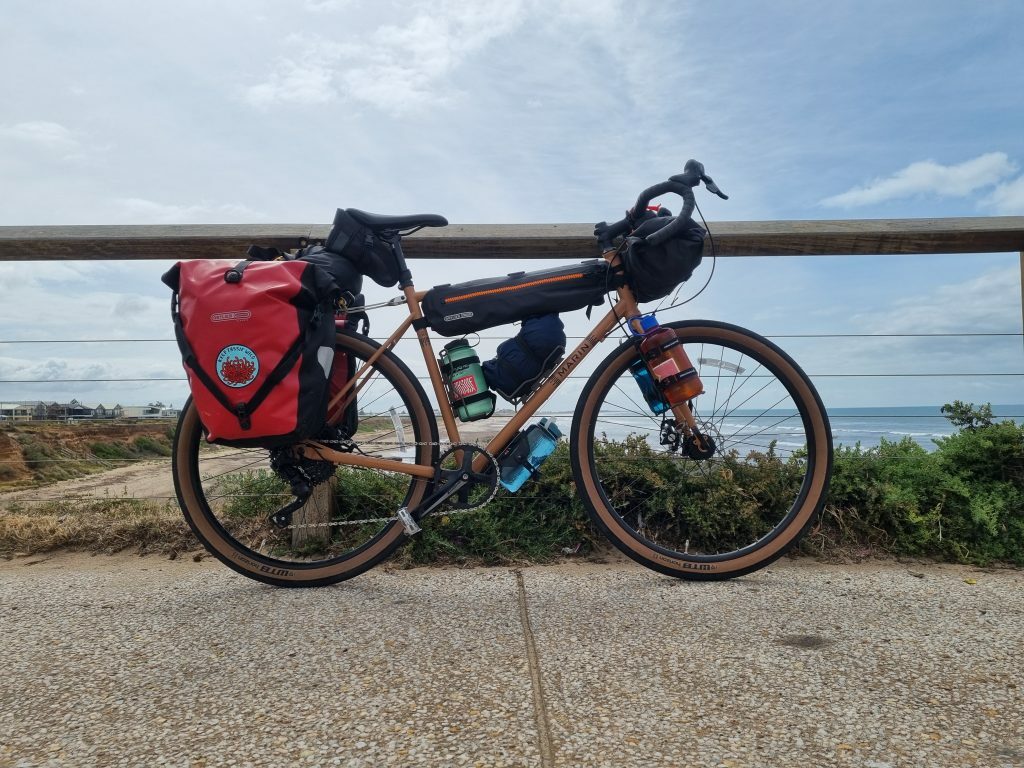 What's the story behind your rig?
I got my Marin Nicasio+ new in late 2021 after a few months of umming and ahhing. I was after a steel-framed bike that could carry a lot of weight on long trips and take a beating around town. It may not quite be the steel-framed beast of my dreams but it's exactly the jack-of-all-trades, master-of-none bike that I need day-to-day.
Before COVID, I'd only really done short-distance commuting, so I am very new to this and last year I toured for 10 days on a rather basic old Giant hardtail mountain bike. I'd got that bike for my 14th birthday, 14 years earlier – so, yes, Dad, the Giant paid for itself.
I'm glad I did that Tassie trip before committing to buying a nicer bike because if I hadn't, I would have had no idea what to look for. I didn't know the difference between a gravel bike and a touring bike, didn't know what brands to look for and had no clue of my capability as a rider. I didn't even know what a derailleur was until I ruined my front one.
By the time I bought the Marin I had a very clear idea of the setup I'd want: a rack and panniers at the back, bikepackingcages and bags everywhere else and a bike that can manage rough country roads – somewhere between a bikepacking rig and a more traditional touring setup.
The Nicasio+ was an easy choice. It came specced more or less how I wanted right out of the box with a single chainring on the front, fat 650B wheels and enough mounts. The current bike shortage also meant some of the other potential options weren't available without a long wait, and I was set on doing a big tour in January. A friend had toured with one of these bikes before I got mine and their praise for theirs definitely helped my decision.
What trip was this bikepacking rig setup for?
These pics all come from a 10-day trip between Adelaide and Warrnambool in January 2022. It was hot and the winds weren't really favourable the way I was going.
I took the Overland train from Melbourne to Adelaide and had intended to ride all the way home to Carlton. COVID got in the way and I had to start my trip later than I'd planned, so I settled on finishing in Warrnambool.
What camping gear do you carry?
Fortunately for me, I already had most of the lightweight camping gear I needed.
My tent is an old Black Wolf Mantis II that I've had since my late teens, and I have a Thermarest that must be about the same age that's held up really well. My sleeping bag is a decent down-filled Mountain Designs one that has been all over the world with me but is probably about due for a replacement.
I took a little Soto Windmaster butane stove that mostly gets used for coffee and soup. If I'm on my own I do very minimalist meals that don't require much cooking.
Bike & Bags:
The bike is a 2022 model with a 58cm/XL frame. I have added Shimano PD M-324 pedals which are dual-side SPD/platform pedals. I might try grippier tyres when the WTB Horizons wear through. Besides the pedals, rack and cages, everything else is standard for now.
There's a Topeak Super Tourist DX rack on the back. I've gaffer taped the side bars so my panniers don't rattle around so much when they're on. I've got four Blackburn Outpost cages on there, two on the forks and two in the middle. I put a cheap adjustable oversized plastic one I had lying around on the underside of the downtube because a Blackburn cage wouldn't quite fit there.
Bag-wise I've got Ortlieb Back Roller Classics on the rear; an Ortlieb Frame-Pack Top Tube where I put my pump and a few other things I need to reach easily; an Ortlieb 9L Handlebar-Pack that I keep my sleeping bag in, and a little Topeak seat bag for my multi-tool, wallet and a spare tube. I also wear a little shoulder bag for my phone and my little Olympus XA.
Tell us about the things you love, or things you'd change about this rig:
Overall, I'm pretty happy with my setup and would absolutely tour with it again unchanged. On my recent trip I had no major troubles with the bike and had enough room for everything I needed to carry.
Of all the bags I now have, my panniers are the things I use most around town because they come on and off the easiest. However, I reckon I'll pull the rear rack off and try out a seat pack next time I go touring. I also think I need a little cockpit bag, too.
I do have a few ideas in my head for improving the bike, but part of me is more than a little wary of going down deep gear-rabbit-holes for small improvements to something that already works well for me.
One day, if I'm still doing this sort of thing I'd love to do a build of my own with a higher-end frame…we'll see. I've got a lot to learn before anything like that.