Hilary's Waltly Ti custom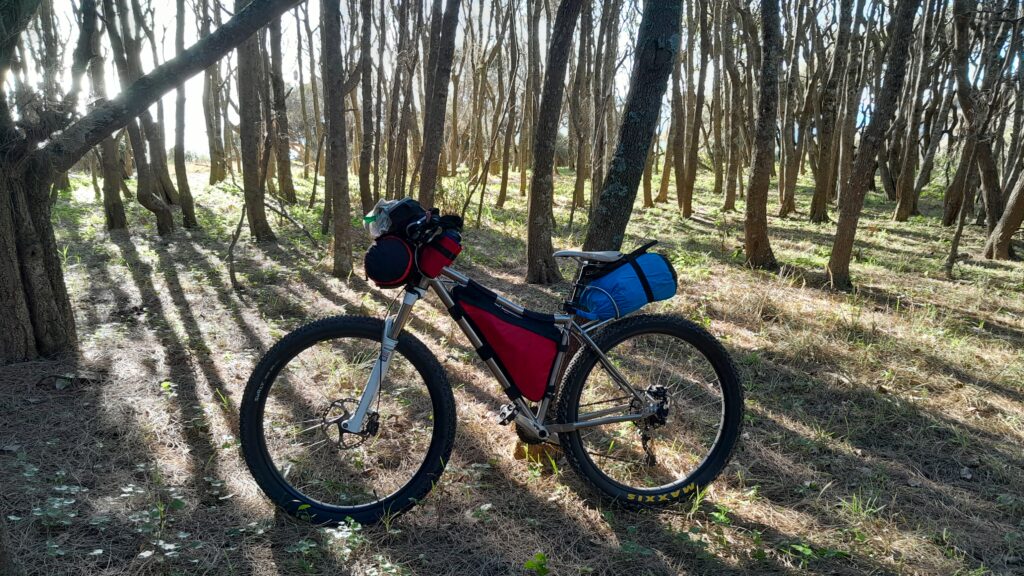 What's the Story Behind Your Rig?
About 6 years ago I got my partner Hilary and myself custom made titanium bikes for a bikepacking trip to Scotland and England. Our previous bikepacking had been local overnighters on our dually mountain bikes, in particular the Polaris Challenge events of the Noughties. I built the bikes up myself and also made most of the bags and gear. It's a bit embarrassing but we have matching his and hers set ups, that's why this isn't a photo of the two bikes together.
What trip was this rig setup for?
The current setup is for a recent overnighter along a coastal route from Narooma to Bermagui on the NSW south coast but for longer rides we don't need much more storage. For the main trip to Scotland we had a top tube bag and small backpacks. Efficiency is certainly gained by sharing between two, in particular tent, cooking gear, first aid, and toiletries.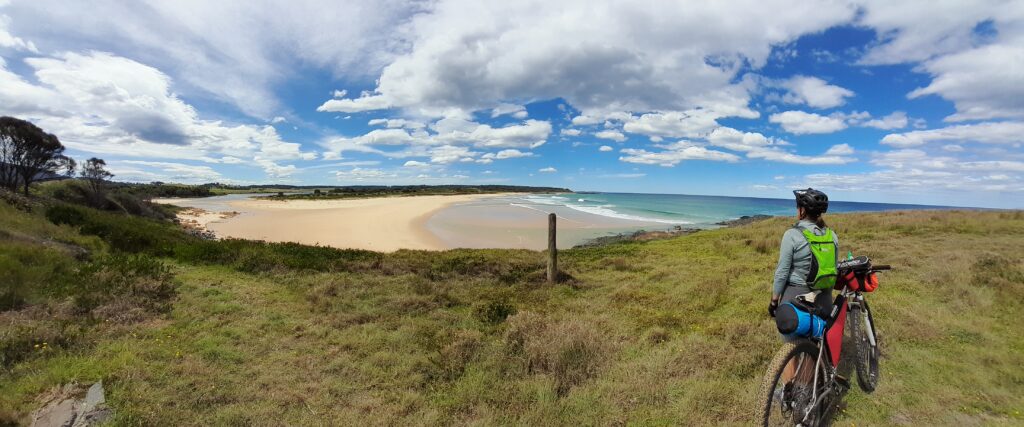 What camping gear were you carrying?
2 person tent from Naturehike (1.6kg) – works a treat and it's cheap, it goes on the rear rack on my bike. Exped Ultra 3R mummy mats, Mountain Designs Airlite pillow, Mountain Designs 600 loft mummy sleeping bags, folding lightweight chairs from Aldi (700g), 360 gas burner and small gas canister, 1 litre aluminium billy, 2-3 litres of water each in collapsible water bottles in frame bag and handlebar bottle. For cooking we are now making up our own dried meals with sun dried veggies, instant mashed potato or cous cous, beef jerky.
Bike and bags
Frames – custom titanium from Waltly, a Chinese frame maker. Contacted through Ali Baba. Went through about 3 or 4 versions of the plans, excellent communication. This meant I could include those handy things like frame mounts on the seat stays, sliding rear dropouts and slightly offset bottom bracket to take plus tires. Excellent quality build for about USD900. Made up the bikes myself 2 x 10 Shimano XT drivetrain and brakes, front suspension (showing our mountain biking pedigree) and as many parts from the shed as I could find to suit. Suspension seatposts added for comfort.
The frame bags, and handlebar stuff bags are home made from Dyneema sailcloth, front harness is home made from cordura with aluminum rod subframe that attaches to the handlebars and the top of the forks with nylon clamps. The rear rack is also home made from 8mm aluminium rod and attaches to the rack mounts on the seat stays and to a collar on the seatpost and takes a tent or a drybag for clothes etc. Front handlebar roll is an 8 litre Sea to Summit drybag with sleeping bag, mat and pillow. First big test was 5 weeks in the Scottish highlands – everything stayed tight and not a thing fell off.
Tell us about the thing you love, or things you'd change about this rig.
I am chuffed at being able to make most of the bike bags and racks and have them work so well, however I would like the front roll and frame attachment to be less finicky. The dry bags work very well and are much cheaper than brand name bikepacking bags. The rear rack works particularly well with no lateral movement of the rear bag.